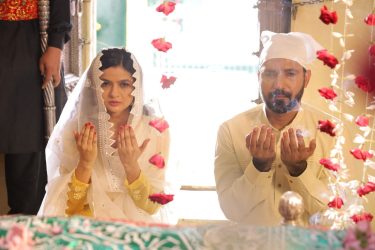 On the auspicious occasion of Eid 2023, it has been announced to release a very soulful and Sufi song "Imam-e-Hind". DK Omsheel Productions USA & Omsheel Production has announced the release of this song worldwide soon. The special thing is that this spiritual song has been shot at the Badi Dargah of Hazrat Pir Noor Satgor Baba located in Navsari, Gujarat. In this video, the names of Dolly Tomar, Rajneesh Dubey and Monty Saiyed are notable as the main actors.
Omsheel Production is an Indian production company engaged in the production of Films, Web Series, Documentary films and also has a branch in USA named DK Omsheel Production headed by Dolly Tomar and Khurram Saiyed.
The Sufi song "Imam-e-Hind" is one such devotional song that will touch your heart as well as your soul. Its amalgamation of beautiful music, heart touching lyrics and powerful vocals will be a great gift for the listeners and viewers which will bring a lot of relaxation to the mind and soul.
It is being said that this soulful song will be launched very soon in Mumbai.Omsheel Production aims to bring realistic cinema which will be a different experience for the audience.
Omsheel Production is also coming up with a feature film "Pyaari Tarawali The True Story" this year after this soulful song, which will be released in theatres. Shot in Madhya Pradesh, the film is adaptation of a novel, is written and directed by Rajneesh Dubey.
Omsheel Production has best creative team who believes in only one thing and that is to make good movies.