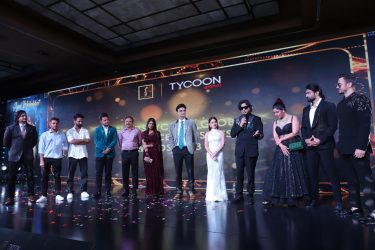 Delhi, 16th June – The grand release event of the music video 'Apni Mohabbat' produced by Filmgiants Private Limited concluded on 14th June in Delhi. The occasion was graced by renowned personalities from India and abroad, who gathered to congratulate film actor Rajveer Sharma and writer Saurabh Tiwari. Notable attendees included Union Minister of State for Social Justice and Empowerment Mr. Ramdas Athawale, Union Minister of State for Health and Family Welfare Mr. SP Singh Baghel, famous MLA of Haryana Mr. Balraj Kundu, social worker Rajiv Goyal. Mr. Sajjan Singh Yadav (Additional Finance Secretary GOVT.OF INDIA), Mr. Sahil Seth Joint Commissioner (Ministry of Finance), Deepak Narang (Deputy Secretary MSME) and several bureaucrats and actors Riya Sen, Gurmeet Choudhary, Darshan Kumar Actress Riya Sen, Debina Banerjee, South Indian actress Bhairavi Deka, Dhamaka Records owner Paras Mehta, Mr. Rajan Sharma , Shlabh Rastogi Shalabh Kaushik of Bhumika Publications and choreographer Shabina Khan,
The event was also graced by The Great Khali, Balwan Singh, the owner of Bharat Express News Channel, Upendra Rai, Owner of Tycoon Global Magazine, Sanjeev Jain, Owner of Eros Company, Krishika Lulla, anchor Rhythm Dutta, Shankar Verma (Owner of Techno Care), Brijesh Kumar (Brain Medicare), Nehashri and Dr. Raman, Ratish Pathania (CEO of Bhutani Infra), Dr. Pankaj (Director of NIMS University), Dr. Swarnalata Panchal, renowned news reporters Neha Batham from Aaj Tak, Nasihasiraj from Dubai, Dr. Renu, producer Iram Faridi, NCRC National Chairman Rajkumar Phoolchand Dharu, Abraham Kumar, Pujya Guruji Rajendra Sharma Peethadhishwar Alakh Jyoti Ashram Himachal, and businessman Baljeet, among others.
Numerous other dignitaries from the country also extended their congratulations to Raajveer Sharma and Yukta Sharma on this occasion. Both Raajveer Sharma and Yukta Sharma looked stunning during the event.
It is noteworthy that this song by Raajveer Sharma was written by Saurabh Tiwari and is taken from his book Anaayas Hi, which was launched by Mr. Amitabh Bachchan. Within just 5 hours of its release, the song 'Apni Mohabbat' has already garnered 1.5 million views on YouTube.
The onscreen chemistry between Raajveer Sharma and actress Yukta Sharma has been the subject of much discussion. Yukta expressed her happiness and high praise for Raajveer. According to media reports, this song is expected to be a massive hit.
The entire production team of the song, including Producer Madhu Sharma, Co-Producer Shri Shikhar Verma, Production Head Saurabh Tomar, Director Akshay Rahi, Editor Kunal, Ankita Sharma, and Aseemta Sharma, were present at the event. However, Singer Sam, Music Director Raees, and Co-Producer Vikas Nonach were unable to attend. Vice President of Zikki Media, Abhinandan Bhardwaj, was also present.
Mr. Saurabh Tiwari, while commending the song, expressed his gratitude to actor Raajveer Sharma and promised to write more songs for him in the future. Public opinion indicates that the song is exceptional and bound to be a hit.