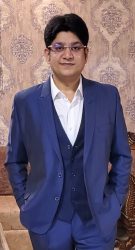 New Delhi, 9th June 2023 – Aponyx Electric Vehicles, a leading provider of electric vehicles in India, is pleased to announce the establishment of a new manufacturing plant in Surat, Gujarat. This strategic expansion aims to address the rising prices of electric vehicles and provide customers with cost-effective and accessible transportation options.
The decision to open another manufacturing plant was driven by the increasing demand for electric vehicles in Gujarat. By setting up this facility, Aponyx Electric Vehicles aims to not only benefit customers but also dealers, distributors, and sub-dealers in terms of cost efficiency.
"Our goal is to minimize costs and ensure affordable access to electric vehicles for all", said Mr. MS. Chugh, Founder & Chairman of Aponyx Electric Vehicles. "With this new plant, we are committed to delivering fast and efficient service, eliminating transportation costs, and directly engaging with our customers in Gujarat."
The Surat plant will focus on manufacturing electric cycles, bikes, and scooters to cater specifically to the Gujarat market. The initial production capacity is projected to be 4,000-5,000 units, with plans to expand manufacturing operations to other states across India in the near future.
Aponyx Electric Vehicles aims to provide customers with the best price, highest quality, and exceptional service. By establishing local manufacturing units in different states, the company aims to streamline the supply chain, reduce delivery times, and offer superior customer support.
"We understand the growing awareness among people regarding the benefits of electric vehicles, including environmental sustainability and cost savings," Mr. Manish Chugh, Co-founder & Director. "Our manufacturing capacity of 60,000 units per year from the Surat plant will significantly contribute to meeting the rising demand for electric vehicles in Gujarat."
In addition to the manufacturing facility, Aponyx Electric Vehicles has plans to build electric charging stations (both AC and DC) for various types of vehicles, including three-wheelers, and two-wheelers. These charging stations will be designed and produced in Gujarat, providing customers with easy access to charging infrastructure across the region. By developing a comprehensive charging infrastructure, Aponyx Electric Vehicles aims to alleviate range anxiety and further promote the adoption of electric vehicles.
The new manufacturing plant in Surat is scheduled to be operational by the 2nd week of August, with an official market launch planned for the end of August. Aponyx Electric Vehicles remains committed to revolutionizing the electric vehicle industry and empowering individuals with eco-friendly transportation options.