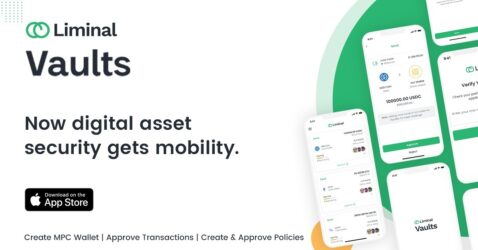 Upgrade your wallet operation experience. Protecting your funds is now simple and secure. Make your digital assets #LiminalSecure today!
Description:
The most trusted digital wallet infrastructure. Optimise your time, resources and cost while you build robust businesses.
Leading Exchanges, Family offices, HNIs, Web3 Startups, DAOs, and Treasuries trust Liminal's security-first approach to secure their digital assets. Using Multisig and MPC (multi-party computation) technologies, we have ensured the highest level of security and compliance for your digital assets.
The wallet features work as enablers to ensure error-free transactions. You can create your group wallet in a few minutes with no technical assistance. In a few clicks, you can send and receive funds (BTC, ETH, ATOM, BCH, LTC, XRP Etc) and adhere to compliance by whitelisting addresses and adding relevant policies. Set preferred spending and transaction limits to ensure you are always in control of your funds.
Liminal is a self-custody platform with ISO and SOC2 certifications. Users get customised products, a seamless interface, concierge support, a dedicated blockchain architect and expertise of over 10 years. Manage time-sensitive approvals easily and stay in control of your assets all the time. Approve transactions on the go securely using your iPhone.
Liminal does not have access to your funds. All transactions happen directly on the blockchain.
CCSS-compliant secured organisation
A compliance standard for every leading digital asset platform to secure all its information systems. By being Liminal's clients, you also adhere to CCSS standards.
Security-centred Infrastructure
Liminal's SOC team and security-focused SIEM infrastructure monitor every event. The web infrastructure and APIs are protected with WAF(Web Application Firewall).
Steps to get started
– If you are a new user, click on "Request Access"
– Once your account is approved, log-in using your iPhone app
– Setup your Mobile Access for your approved organisation
– Make sure you take backup and secure the MPC keys of your organisation
– Enable Mobile signing for other members
– Start approving transactions using your iPhone app
Note: The app requires 2FA for log-in and Face ID to approve requests
SUPPORTED CRYPTO PROTOCOLS
Bitcoin(BTC)
Ethereum (ETH and ERC20 tokens)
Polygon (MATIC and ERC20 tokens)
BNB Chain (BNB and ERC20 tokens)
Avalanche (AVAX and ERC20 tokens)
Optimism (OP and ERC20 tokens)
Arbitrum (ETH and ERC20 tokens)
Solana (SOL and tokens)
Ripple (XRP)
Dogecoin (DOGE)
Litecoin (LTC)
Tron (TRX)
Cardano (ADA)
Cosmos (ATOM)
Download – https://apps.apple.com/in/app/liminal-vaults/id1667220240