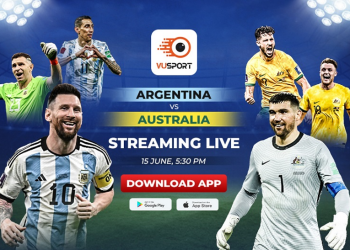 Gurugram (Haryana), Football fans all around the globe are gearing up for the much-awaited thrilling clash between the reigning FIFA World Cup Champions, Argentina and the Socceroos, Australia. This adrenaline-filled face-off between Argentina & Australia in the 2023 International Friendlies will take place on 15th June 2023, at 5:30 PM (IST) in China (Beijing) at the Workers' Stadium.
LIVE Streaming: Where Can You Watch Argentina (ARG) vs Australia (AUS) 2023 International Friendlies in India for Free?
If you are also all pumped up to witness the God of Football – Lionel Messi & his FIFA World Cup-winning squad in action against Australia, then the VUSport App is the ultimate destination for you! You can watch a high-definition LIVE stream of the exhilarating Argentina VS Australia encounter exclusively on the VUSport App for free, with no subscription charges, and no hidden costs! With VUSport's seamless user interface, & advanced in-app features, you get a seamless viewing experience at your fingertips. Also, the VUSport App is available across platforms on both Android & iOS devices so that you always get a front-row seat to the action no matter where you are and which device you use.
"Argentina vs Australia promises to be an enthralling match, and at VUSport, we are committed to delivering an immersive experience to the fans," said Pratik Gosar, CEO of VUSport. He further added, "We want to make sure that fans have access to the best resources and features to enhance their viewing experience, and our app offers just that. From exclusive & free live streaming to offering the best fantasy football teams for winning, in-depth analysis, and interactive engagement, VUSport has it all."
Squad for Argentina vs Australia 2023 International Friendlies
Argentina remains unbeaten in their previous seven men's 'A' internationals against Australia, demonstrating their dominance on the field. Throughout this period, they have only conceded a solitary goal in the first halves of those matches. Notably, this upcoming game will mark Australia's first men's international away from home since their 2-1 loss to Argentina at the 2022 FIFA World Cup. Additionally, it is worth mentioning that Argentina has encountered only one defeat in their last 45 men's internationals, which occurred during a 2-1 match against Saudi Arabia at the 2022 FIFA World Cup. For Argentina vs Australia 2023 International Friendlies,  the squads for both teams are as follows:
Argentina Squad (ARG) –
GoalKeeper: F Armani, G Rulli, E Martínez, J Musso
Defender: J Foyth, N Tagliafico, G Montiel, G Pezzella, M Acuña, C Romero, N Otamendi, L Martínez, N Molina, F Medina, N Pérez, M Senesi, L Blanco,
Midfielder: L Paredes, R De Paul, Á Di María, E Palacios, T Almada, P  Gómez, G Rodríguez, A Mac Allister, E Fernández, G Lo Celso, F Buonanotte, E Buendía, V Carboni, M Perrone
Forward: Julián Álvarez, L Messi, Ángel Correa, P Dybala, L Martínez, N González, J Correa, G Simeone, A Garnacho
Australia Squad (AUS) –
GoalKeeper: J Gauci, M Ryan, A Redmayne, D Vukovic, M Langerak, T Glover
Defender: J Bos, M Degenek, N Atkinson, K Rowles, B Wright, A Behich, H Souttar, T Deng, J King, F Karacic, R Strain, T Sainsbury, H Delbridge, G Stensness, J Davidson
Midfielder: C Metcalfe, A Robertson, A O'Neill, A Mabil, A Mooy, R McGree, C Devlin, J Irvine, K Baccus, M Leckie, A Hrustic, T Francois, D Genreau, K Dougall
Forward: B Borrello, M Tilio, M Duke, G Kuol, C Goodwin, J Cummings, J Maclaren, M Boyle, A Taggart, N D'Agostino, N Irankunda, A Circati
Conclusion
So it's time to mark your calendars for June 15th 2023 at 5:30 PM and download the VUSport App to catch the exclusive LIVE stream of Argentina vs Australia 2023 International Friendlies for free. Witness the skills of Lionel Messi and the World Cup-winning Argentina side as they take on the Australian team in what promises to be an enthralling match. Don't miss out on the action – download the VUSport app and enjoy the game for free.
Android: https://play.google.com/store/apps/details?id=com.vusport.fantasy.sports.streaming&pli=1
iOS: https://apps.apple.com/in/app/vusport-live-cricket-stats/id6444726430
Website: https://www.vusport.com/