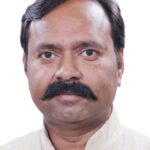 Ashok Kumar Rawat is an Indian politician and a Member of Parliament (MP) from the Lok Sabha constituency of Misrikh in the state of Uttar Pradesh. He is a member of the Bharatiya Janata Party (BJP). Misrikh Lok Sabha seat comprises assembly constituencies of Misrikh, Bilgram-Mallanwan, Balamau, Sandila and Bilhaur. Misrikh is famous from a spiritual perspective, as it is considered as the birthplace of Dadhichi, a revered Hindu sage.
Misrikh Lok Sabha seat is reserved for SC. If we consider the past two decades, Bahujan Samaj Party (BSP) has won this seat maximum number of times. BSP candidates won in 1998, 2004 and 2009. Samajwadi Party (SP) won the seat in 1999 whereas BJP won in 2014 and 2019. Ashok Kumar Rawat has won this seat three times in 2004, 2009 and 2019.
Before joining BJP, Ashok Kumar Rawat was with BSP. In 2004 election, he defeated his nearest rival Sushila Saroj of Samajwadi Party by a margin of around 20k votes. In 2009, he defeated Shyam Prakash of SP by more than 23k votes. In 2014, Ashok lost to Anju Bala of BJP by a margin of more than 85k votes.
As political equations changed in Uttar Pradesh after 2014, Ashok Kumar Rawat decided to switch sides. It was in April 2018 that Ashok joined BJP. Along with him, other members of BSP had also joined BJP. It was a good move from a political perspective, as Ashok was able to win again from Misrikh in 2019 Lok Sabha election.
2019 election in UP was among the toughest for BJP, as other opposition parties had united to fight under a common banner of 'Mahagathbandhan'. But Ashok was still able to defeat his nearest rival Neelu Satyarthi of BSP by a comfortable margin of more than 1 lakh votes. This win cemented his position in the party and proved his dominance in the region.
Early Life and Education
Ashok Kumar Rawat was born on November 26, 1975 to Shri Gobardhan Lal and Smt. Meena Devi. He was born in Hardoi, a city in Uttar Pradesh. He has studied at Lucknow University and has a M.A. degree. He is married to Monika Rawat.
Political Career
2004: Elected to 14th Lok Sabha
Member, Committee on Information Technology; Member, Committee on Public Accounts; Member, Committee on Welfare of Scheduled castes and Scheduled Tribes
2007-2009: Member, Committee on Chemicals & Fertilizers
2009: Re-elected to 15th Lok Sabha (2nd term)
6 Aug. 2009: Member, Committee on the welfare of Scheduled Castes and Scheduled Tribes
31 Aug. 2010: Member, Committee on Chemicals and Fertilizers
May, 2019: Re-elected to 17th Lok Sabha (3rd term)
24 July 2019 onwards: Member, Committee on Estimates
13 Sept. 2019 onwards: Member, Standing Committee on Commerce; Member, Consultative Committee, Ministry of Textiles
Personal Pursuits
Ashok Kumar Rawat is associated with a wide range of social and cultural activities. He is actively involved in projects that seek to provide education to poor children. He likes to listen to old songs and music and watch stage shows, folk dance and movies. In sports, he likes cricket, badminton, shooting and tennis.