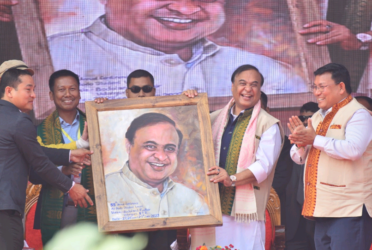 Bodoland Fwthar, Rowta, BTR:-
Assam Chief Minister Dr . Himanta Biswa Sarma while attending the 55th Annual Conference of All Bodo Students Union (ABSU) at Bodoland further
Rowta under the administrative Control of the Bodoland Territorial Council (BTR) expressed his feelings towards the role played by ABSU towards the contribution in Bodo Community, 'ABSU helped in the growth of Bodo community through their progressive endeavor.
BTR CEM Mr. Pramod Boro who served ABSU till 2020, dedicated his 30 years of life to uplifting the younger generation, he served 19 years as an office bearer and 9 years as ABSU President, before joining active politics.
Until this convention, Previously Mr.Dipen Boro took charge of ABSU President at a special Convention which was held at Gwjwn Pwthar in Tamulpur Assam where he was elected as President for the tenure of two years. Presently the fresh 55th Annual Central Conference of ABSU was held in Bodoland Fwthar at Rowta in Udalguri district, again Mr. Dipen Boro was elected for term 2023-25.
After completing his Master's from Gauhati University Mr. Dipen Boro joined directly with ABSU as Education Secretary in 2005.
He launched "Year of Education" in 2006 to bring massive education awareness among the masses to increase the literacy rate which levels only 33% at that time. Around 350 educational awareness meetings were covered for parents, teachers, and students.
A survey was done and found a huge gap in quality in comparison to the medium of English and Assamese. Then "Mission Quality Education" was launched in 2007 with the target to bring maximum quality improvement in knowledge, result, and text among the students. A massive cycle rally opened in the entire Assam by crossing 2300 km connecting villages, institutions, educational blocks, VCDCs/Panchayats, districts, etc. The number of 1st division holders in HSLC was only 66 in 2006 and now after one decade, it becomes 1970 in 2023 in the Bodo medium. Admission in IIT, Engineering, Medical, Management, and selection in UPSC civil service and many competitive exams are increasing day by day.
Mr. Dipen Boro had a keen interest in literature since his school days. He has written several poems and essays.
As a citizen journalist, his writings in Newspapers, Journals, and Magazines have been published continuously for the past two decades on social and educational issues including the rights of the Bodos. His books "Let's learn English with the help of Bodo" and " Miniglabnaini Bakhri" (Comic book) had been published by GBD publication.
He also received an Award from Assam Government in 2012 known as the "Chief Minister Best Community Action Award" for bringing community peace and harmony during Communal Riots in lower Assam.
Chief Minister expressed his gratitude to all the people of BTR starting from CEM Mr. Pramod Boro and also Congratulated Mr. Dipen Boro to be re-elected as ABSU president while addressing the gathering.
Chief Minister Himanta Biswa Sarma stated that the decision to demarcate the Bodoland Territorial Region (BTR) boundaries was made after prior consultation with all parties.
"The decision to include new villages in BTR was made after discussions with various groups," said CM Sarma. The ABSU had petitioned our government to include only Bodo villages in BTR. Even if Bodo villages are included in BTR, I see no reason to object."
"Our government has decided to include villages with at least 80% Bodo population. We are strictly enforcing vigilance so that indigenous people are not excluded from the land provision and that no one acquires land illegally," the chief minister added.
Earlier this week, the Assam Chief Minister announced that the BTR would be expanded to include at least 60 new villages in the Sonitpur district. These villages will be from the Dhekiajuli, Sootea, Biswanath, Behali, and Gohpur districts. Sonitpur's BTR will include 60 new villages, 43 of which will be revenue villages and 13 of which will be forest villages.