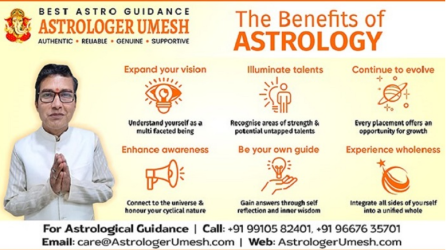 NEW DELHI, March. 29, 2023– World famous astrologer in India, Pt Umesh Chandra Pant has launched his solution-driven website – AstrologerUmeshdotcom – aiming to serve people with the most competent astrological solutions to put an end to their misery and help them live a happy and prosperous life. His website is also the reflection of his tremendous expertise and rich experience of 22 plus years in the field of Vedic astrology which he leverages to benefit people looking for a timely solution to their day-to-day problems in various aspects of life, such as career, business, education, or even problems related to their personal life aspect.
Hailed as the Best Vedic Astrologer in India and top Jyotish in India, AstrologerUmesh believes that his website would turn out as the most competent and trusted online platform for people who appreciate quality solutions in astrology at the most competitive price point.
It should be noted that the fitting astrological solutions provided by Astrologer Umesh Pant are not limited to Delhi, India but also overseas, for his website would be a great communication link to the needy looking for affordable and high-quality astrological solutions and services. The website offers a comprehensive suite of astrological services and solutions, along with products, such as gemstones, rosaries, stones, and so on.
Who is Astrologer Umesh Chandra Pant?
Astrologer Umesh Chandra is hailed as the world-famous and most accurate astrologer in India which is largely attributed to his profound insights and specializations encompassing horoscope analysis, Vedic astrology reading, Vastu services, and numerology. He is profoundly educated and experienced in the field of astrological services covering financial problems, marriage, education, business, education predictions, and horoscope matchmaking.
Born and raised in a pure Brahmin family, he completed his JyotishShatracharyaand Jyotish Rishi from AIFIAS affiliated with Mewar University and forayed into astrological services in the year 1988. He studied deeply the principles of Indian Vedic astrology for continuously 12 years. It helped him earn in-depth expertise and experience in it, which later proved a quantum leap in his provisioning of astrological services and solutions as a professional astrologer.
Over the last 22 plus years, he has consistently been providing astrological services and made the life of countless people happy and prosperous. His remedial measures in astrology coupled with guidance, suggestions, and recommendations give people tremendous astrological relief and solutions to their lingering problems, thereby helping them rid of issues caused by planetary or celestial factors and live happily.
What is the most Notable Achievement of Astrologer Umesh in the field of Astrology?
According to Pt Umesh Chandra Pant, Also known as Top 3 Best Astrologer in Delhi, India, he has been serving people who are upset with problems and lingering issues in their lives. He feels pleased beyond words when people send him emails and phone calls expressing their thanks and gratitude for having solved their life's predicament and major problems using his astrological insights. "I feel pleased and happy to see that my solutions have brought forth unique changes in the life of people troubled with their lingering issues on various fronts, like relationships, career, or personal," quips astrologer Umesh Pant.
He adds further that seeing people pleased and content with their life because of his astrological solutions is the biggest achievement that he considers god has ever gifted to him.
What is the proudest moment for astrologer Umesh in his career in astrology?
Astrologer Umesh Pant attributes his life's happiness to the love and respects people bestow on him due to his unfathomable astrological comprehension with which he serves them with distinctions. Therefore, the proudest moment in his life, according to his own viewpoint, is when people get benefited from his astrological solutions. He believes that he treats or guides every individual with a touch of personal connection as if they are his own family members. He is the proponent of India's ancient adage "वसुधैवकुटुंबकम" (The whole world is a family) and affirms that his professionalism in astrology is tied with the maxim.
How is astrologer Umesh different from other astrologers?
When asked about how he sees himself from other astrologers who vigorously endorse their services in the market today, Pt Umesh Chandra Pant politely disagrees that he considers anyone his competitor. He says he is the one competing with himself, no one else. He thinks that anyone serving people astrologically must perform it with honesty and moral and ethical responsibility.
Astrologer Umesh Pant – An Astrologer for all
Umesh Pant astrologer is hailed in deep respect and honor for his profound knowledge, expertise, specialization, and dedication toward serving the people astrologically, helping them find a new purpose to live happily and achieve desired goals in their chosen endeavors.
His contributions toward astrology and astrological offerings for the benefit of the needy have been recognized with thunderous applause by various media outlets, such as – Hindustan Times, India Today, Zee News, Live Mint, Deccan Herald, Out Look, Mid-Day, The Tribune, The Print, Global News Wire, and Yahoo News.
These prominent media houses have hailed the name of Astrologer Pt Umesh Chandra Pant in their exclusive coverage respectively, addressing him with accolades, such as Number 1 and Most Renowned Astrologer in India and worldwide, with unquestionable ethics and commitment toward serving the people. He is considered an astrologer loved and respected by everyone.
Why Astrology is Important for us?
Astrology can help us understand our past, present and future events better. Apart from helping to avoid stress in marital relationships, business, career, education, finance, delay in marriage, property, progeny, debts, destiny and professional matters, astrology also helps in enjoying good health, prosperity and spiritual advancement, learning more about and leaning into God.
With his new website, AstrologerUmeshdotcom, Pt Umesh Chandra Pant vows to serve people with unfailing dedication and commitment, helping them finds the true purpose and best solutions for their problems. He can be contacted through his official website for consultancy in astrology.
You can also find detailed analysis and effective solutions to Pt Umesh Chandra Pant astrological consultation by phone, email, video conference or face-to-face.
Contact us: +91 99105 82401, +91 96676 35701
Email us: care@AstrologerUmesh.com
Follow Us on:
Instagram – https://www.instagram.com/astrologerumesh.pant/
Facebook – https://www.facebook.com/AstrologerUmeshPant/
Twitter – https://twitter.com/UmeshJyotish
Pinterest – https://in.pinterest.com/AstrologerUmesh/
You Tube – https://www.youtube.com/user/astrologerumeshpant