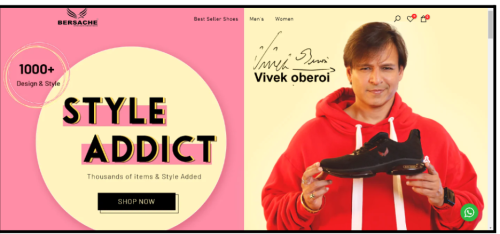 Bersache Sports Private Limited, a company that emerged on the scene in 2016, has come a long way since its modest beginnings, with approximately 50 orders processed in its initial years. As time unfolded and the company grew, it underwent a remarkable transformation, currently handling over 10,000 orders daily. Its primary sales channels include Flipkart, its official website, Amazon, and Meesho. While these numbers are a testament to the company's success, perhaps the most remarkable part of Bersache's journey is its shift from offering low-quality products to delivering high-quality sports and casual wear, a transformation that began in January 2022.
Bersache, at its core, is committed to meeting the sportswear and casual clothing needs of individuals across all age groups, with a notable focus on men's sports apparel, which constitutes a significant portion of their sales. This dedication to quality and versatility has undoubtedly contributed to the company's exponential growth and success.
Founders and Brand Ambassador
Bersache was founded by Pankaj and his co-founder, Surabhi. The company's journey began in Udyog Nagar, Delhi, with its manufacturing centre located in Mangolpuri and its main office situated at 1033, Mundka, Delhi. The brand's popularity and reach have been further bolstered by the association with Vivek Oberoi, who serves as the company's brand ambassador.
Mission and Expansion Plans
The company's evolution is not merely limited to its product quality. While Bersache initially sold its products through offline stores, it has ambitious plans to diversify its presence. Starting in December 2023, Bersache is set to launch its franchise model, with approximately 10 stores already reserved for this expansion phase. The company's mission is to establish 100 stores across India by 2024 and scale up to 250 stores by 2025. This aggressive expansion strategy is a clear indicator of their confidence in their products and the market's demand for them.
Bersache's Impressive Revenue Growth
The financial performance of Bersache Sports Private Limited reflects its steady growth and robust business model. For the fiscal year 2022-23, the company reported revenues of 75 crores, an impressive feat for a company that started with just 50 orders. In the preceding month, the company generated 10 crores in revenue, which is a testament to its consistent growth. Looking ahead, the company has set an ambitious revenue target for the entire year of 2023, aiming to achieve 120 crores in revenue. These figures underscore the remarkable journey and financial stability of Bersache.
Addressing Strong Customer Demand
Bersache's core commitment revolves around addressing the sportswear and casual clothing requirements of people of all age groups. While this includes a diverse product range, there's a notable emphasis on catering to the strong customer demand for men's sportswear. The company boasts a 20-year history of specialising in footwear, a testament to their industry expertise and dedication to offering quality products.
Competitors of Bersache
Bersache operates in the highly competitive sportswear and casual clothing industry. Several companies compete with Bersache in various aspects of their business. Some of the notable competitors in this space include:
Nike: Nike is a global giant in the sportswear industry, known for its high-quality products and extensive range of athletic and casual wear.
Adidas: Adidas is another major player in the sportswear market, offering a wide variety of athletic and lifestyle apparel and footwear.
Puma: Puma is a renowned brand for sportswear and footwear, focusing on innovation and performance-oriented products.
Reebok: Reebok is known for its athletic and fitness-oriented products, catering to a wide range of sports and activities.
Under Armour: Under Armour specialises in performance apparel, footwear, and accessories for athletes and fitness enthusiasts.
New Balance: New Balance is recognized for its athletic and lifestyle footwear, known for comfort and fit.
ASICS: ASICS is a well-regarded brand for its athletic footwear and activewear, particularly in running and fitness categories.
Skechers: Skechers offers a diverse range of athletic and casual footwear, appealing to a wide demographic.
FILA: FILA is a global sportswear brand with a strong presence in various categories, including tennis, basketball, and casual fashion.
Decathlon: Decathlon is a popular sporting goods retailer offering a wide range of sportswear and equipment across various sports.
H&M: H&M, a fast-fashion retailer, competes in the casual clothing segment, offering trendy and affordable fashion items.
Zara: Zara, another fast-fashion brand, offers a wide array of casual and trendy clothing options for all age groups.
Gap: Gap is a renowned brand for casual wear, offering a range of classic and timeless clothing items.
Uniqlo: Uniqlo is known for its high-quality basics and functional clothing, with a focus on simplicity and comfort.
In conclusion, Bersache Sports has made significant strides in a highly competitive market. To thrive, they must continue delivering quality, embracing innovation, and adapting
to changing customer preferences.