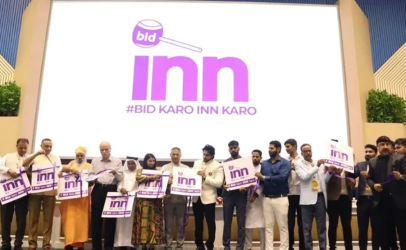 These days, when you wish to book a hotel, you get multiple websites or online platforms to choose from. Bid Inn/bidinn.in, however, has emerged as the topmost choice for most people who look for a stay or accommodation in a hotel. The online platform has managed to attract clients from all walks of life including students, professionals, travel enthusiasts, and entrepreneurs, among others.
Bid Inn has also been credited with bringing a revolution in the hospitality industry with its innovative approach and new-age methods to cater to the needs of the customers. The well-designed website makes it easy for customers to find what they are looking for and get the accommodation facility of their choice. The various features on the platform make it unique and help it stand out in a crowd of online platforms operating within the hospitality industry.
Talking about the useful features on the website, Bid Inn founder Ms. Rupsi Singh says, "While looking for accommodation facilities, customers get multiple categories like luxury hotels, seaside resorts, mountain-view hotels, private villas, new-age apartments, cottages, riverside cabins, guest houses, and vacation homes to choose from. Through one singular platform, the consumer gets to choose from a variety of accommodation options at the best prices."
Bid Inn, the name of the platform, also signifies one of the most important features offered by it to the customers. The bidding procedure developed by Bid Inn, in fact, gives it an edge over other similar platforms in this space. When a customer is interested in staying in a particular hotel, they can share details about the amount of money they are willing to spend on their accommodation through their bids. Apart from making the process of booking a hotel more flexible, it also enables one to book a stay at luxurious accommodations at very affordable rates.
Elaborating on the same, Ms. Rupsi Singh states, "Hotel booking websites have been around for a long time. However, we have worked towards adding an element of negotiation to the whole mix. By using this tool or facility, an individual can engage with the team of the hotel they wish to stay in, talk about their preferred rates, and participate in a transparent bargaining process. We make it possible for customers to have a certain amount of control over the money they plan to spend on their accommodation. Our methods have also benefitted hotels and other accommodation facilities as they have been able to maximize their occupancy throughout the year and have a good run even during off-seasons."
As a digital platform, Bid Inn has played a key role in revolutionizing the hospitality industry and creating a stronger relationship between customers and accommodation facilities across the country. The company has used technology as a medium to bring its innovative ideas and methodologies to life and paved the way for all the digital platforms operating within the peripherals of the hospitality industry to propel the industry's growth forward by serving its customers better.
Website: https://bidinn.in/