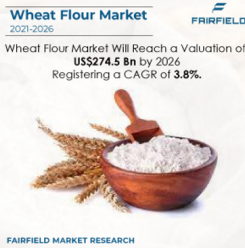 Phenomenal growth of HoReCa sector is accountable for sustained wheat flour consumption worldwide. The artisanal bakery has risen and is peaking, further supplementing the demand for wheat flour. As far as the global wheat flour market is concerned, a new Fairfield Market Research study expects stable growth in near term, possibly reaching the valuation of more than US$274 Bn by the end of 2026. Bread continues to register the highest consumption, whereas business opportunities flock in Asia Pacific. The study says clean-label, whole grain, natural attributes of wheat will be responsible for sustained usage while the gluten-free trend wave reflects a long-term challenge to market growth.
Wheat-based flours have been recently winning consumer choices, in turn driving demand within popular categories like pizza, pasta, and noodles. Wheat flour observes a notable, unwavering opportunity in bakery where it gains ground across a wealth of categories like ready-to-cook, premix, and pancake mix. Confectionary follows.
Although conventional wheat flour dominates in sales, refined variant is touted to be a thriving segment of the global wheat flour market. Above all, breadmaking registers more than 55% of the total demand recorded on the market.
Regional analysis of the market reveals dominance of Europe as it represents the world's largest bakery industry. On the other hand, wheat flour markets of the Middle East, and Asia Pacific keep the demand afloat on the back of dramatically expanding HoReCa sector. Introduction of innovative flavoured varieties will further continue to be a crucial factor favouring market growth across Asia Pacific. The report forecasts a promising 4.3% CAGR for the market in Asia Pacific through 2026.
This report of Fairfield Market Research offers thorough insight into the entire competition landscape of wheat flour market space, emphasizing the detailed competitive examination, along with detailed strategic and financial profiling of the most prominent companies. Given the thriving health food trend, brands are likely to focus on new launches in bakery sector that fall under the fortified foods category.
A few of the key brands in wheat flour industry include General Mills, Inc., Archer Daniels Midland Company, King Arthur Flour Co., Ardent Mills, LLC, Grain Craft, North Dakota Mill, Miller Milling, George Weston Foods Ltd., Bob's Red Mill, Natural Foods, Allied Pinnacle Pty Ltd., Hodgson Mills, Inc., ADM Company, Korfez Flour Mill, and Acarsan Flour.
For More Information Read: –  https://www.fairfieldmarketresearch.com/report/wheat-flour-market