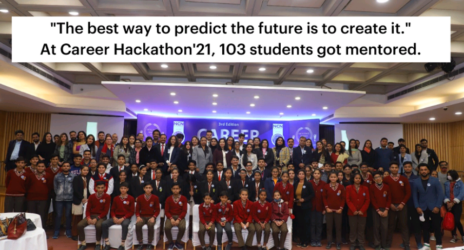 The third edition of Career Hackathon'21 – focusing on Career Counselling in partnership with National Career Counsellors Network and Career Beacon brought the renowned Careers professionals, counsellors, and experts from the education industry together under a roof on Friday, December 17, 2021, at India International Centre, Delhi.
Managing Editor Career Beacon, Mrs Sunanda Rao, delivered the introductory session of Career Hackathon and stated that Career Hackathon'21 is a quest to bring together higher & K12 education representatives and mentors to collaborate on issues that drive sustainable and inclusive counselling practices focused on student success.
The day-long event comprised three tracks. The first track was a bonanza for 103 students as they got an opportunity to interact with 17 certified Career Counsellors. In addition, counsellors from NCCN, Study Abroad Consultants like Foreign Admits, Edustori, UBS & other university delegates, and representatives from 'Blossom Kochhar College of Creative Arts & Design, and AAFT University & Weecom Digital formed a part of the Mentor community.
e-Mango turned to be the showstopper of the session with its excellent one-stop solution app for students.
Track 2 is dedicated to sharing experiences and success mantra on 'Changing landscape of Careers' by Dr Sandeep Marwarh, Dr Blossom Kochhar, Dr Sanjay Gupta, Mr Sujit Panigrahi.
Mr Prashant Kapur, Sourav Mohanty & shared their expertise in Foreign Education & Komal Gupta shared insights on Digital Marketing with the audience.
In contrast, educators Mrs Poonam Saxena, Dr Bhavna Chibber & Mrs Supreet Kaur shared their views on 'Importance of Career Counselling and their best practices.
Ms Sheetal Banchariya contributed by sharing her journey to Journalism. Finally, Mr Nitin Nagpal of e-Mango introduced the e-Mango app, which will open a passive income stream for Career Counsellors.
Brig(Dr) Sunil Moudgil initiated track 2 with an energizing session.
Track 3 was celebratory. The Excellence Awards & the Mentors award felicitation ceremony recognised the individuals & organisations excelling in mentoring. Dr Sandeep Marwah felicitated the awardees.
A high-tea for the professionals graced with 12 university delegates,15 Principals, 75 Career counsellors, and board members of educational institutions across India added warmth to the event.
Career Hackathon'21 by National Career Counsellors Network & Career Beacon concluded on an exceptionally high note beefing up the richness of the education industry with the contribution of professional wisdom aligned with the interests of students paving the way for more such events in the future.
With the smiling facing & testimonies of the participant, National Career Counsellors Network & Career Beacon is motivated to host its next event – Education Conclave'22, following the guidelines of the Government & COVID norms.
Career Beacon was the Exclusive Print & Digital Media partner at Career Hackathon 21; Watch out for the mesmerizing Keynote address by Dr Sandeep Marwah.
For more information, remain in touch with us via our website (https://thecareerbeacon.in/)