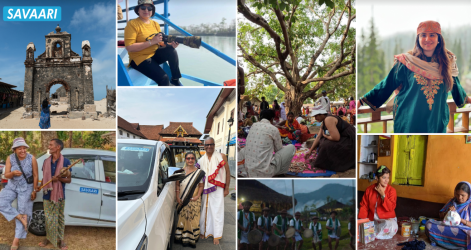 Are you racing through your travel itinerary, with your heart pounding like a marathon runner, hurriedly snapping photos at every monument only to rush to the next? If so, it's time to hit the pause button and consider a different rhythm: Slow travel. Slow travel is not about inertia; it's about immersing yourself into a culture, learning its dance, and finding joy in unexpected places. It's the realization that the journey matters just as much as the destination, if not more.
It encourages you to take the lesser-known route, savour the local cuisine, engage in heartfelt conversations, and bask in the glow of the milieu. It's not about doing less; it's about experiencing more – more connection, more authenticity, and more understanding. As slow travel transforms the face of the travel industry, let's explore why it's time to shift gears from the breakneck pace and embrace the unhurried journey.
The philosophy of slow travel
The idea of slow travel traces back to 1986 when journalist Carlo Petrini launched the slow food movement in Italy, protesting against the invasion of fast food and championing traditional cuisine. This stood as a counter to speed and convenience, an ethos that later seeped into the realm of travel, giving birth to the slow travel phenomenon.
By living like a local, embracing unexpected detours, and indulging in unhurried exploration, slow travel uncovers the hidden layers of a place that are often missed in a rush. A road trip embodies this concept perfectly. Car rental services like Savaari echo this ethos, enhancing the slow travel experience by offering chauffeur-driven cars.
Picture this: you're on a journey from one point to another, driving through an unknown route, when you encounter a board suggesting a detour to a waterfall or a temple. When that detour sign catches your eye, all you have to do is let your chauffeur know that you'd like to explore further. They handle the logistics, and you're free to immerse yourself in exploring lesser-known gems that you encounter. There's no hard and fast itinerary to stick to, and no deadlines to rush towards. You're not bound by the rigid schedules of public transport, and you certainly don't have to negotiate crowded spaces or compromise on comfort. You set the pace, you choose the path, and the journey unfurls at your will.
Unpacking India – A slow traveller's paradise
Travel's allure doesn't always lie in distant lands but often, in the rich tapestry of experiences woven right in our backyard. India is a diverse terrain of cultural mysteries and geographical wonders. Its breadth and depth, from the sands of Rajasthan to the mystical ghats of Varanasi, from the wild frontier of Arunachal Pradesh to the verdant beauty of Kerala, the rustic charm of Chhattisgarh to the soaring heights of Himachal Pradesh, all encapsulate a symphony of experiences. But ponder this, could such depth of experience be possible without the unhurried, immersive journey of slow travel?
A realm where the flavoursome curry has as many stories as its ingredients, the sheer variety of traditions, wildlife, landscapes, and festivals, paints an ever-vibrant palette. Journeying through the country's myriad tribes, like the African-descended Siddis in Karnataka, one uncovers the unfathomable diversity. Yet, how does one truly appreciate the intricacies of such boundless diversity? The answer is by harnessing the power of chauffeur-driven car rentals. The ease, comfort and convenience of car rentals allow for spontaneous detours to turn tourists into explorers, spectators into participants, and transform ordinary journeys into extraordinary stories.
Swati Mukund, a passionate traveller, embarked on a spiritual journey across Kerala with Savaari, delving deeper into the region's temples, rather than sticking to the customary tourist attractions such as the backwaters. She said, "To me, travel isn't just a voyage; it's a spiritual homecoming. I chose to chart Kerala's divine history through a road trip and found myself on a path of awe-inspiring discovery. It wasn't just a journey; it was a nostalgic return to the spiritual sanctuaries of my youth, a chance to revisit my past through mature eyes. That's the essence of slow travel for me – it's personal, it's cultural, it's immersive. It's an experience that lingers long after you've arrived home."
The impact of slow travel
Slow travel, an approach that encourages immersing oneself in local culture and environment, also emerges as a champion of environmental sustainability. By prioritizing quality over quantity, slow travel diminishes carbon footprints by reducing frequent air travel, thus lessening environmental strain. Moreover, it promotes local economies. Travellers opting for homestays, local eateries, or artisans contribute directly to community development, promoting a cycle of discovery and growth.
The future of slow travel in India gleams with promise, as travellers seek more immersive, meaningful experiences. The booming sector is reshaping tourism, making it more sustainable and beneficial for both travellers and communities. Amidst this, the car rental industry plays a pivotal role, allowing explorers to chart their own paths at a relaxed pace. This unique synergy between the travel and car rental industry could steer India's tourism towards a more sustainable, culturally rich future. So, as we journey forward, let's embrace the slow travel mantra – less rush, more insight, and an adventure that leaves lasting footprints, not on the earth, but in our hearts.
Written by:
Anand Dorairaj – VP, Co-founder, Head of Growth at Savaari Car Rentals. With a career spanning over 12 years, Anand has made significant contributions in the car rental industry. He has spent 7 years at Savaari, playing a pivotal role in driving growth and enhancing the customer experience.