Dollywood Play opens its doors to an unforgettable journey filled with suspense, drama, and cinematic brilliance, catered to the masses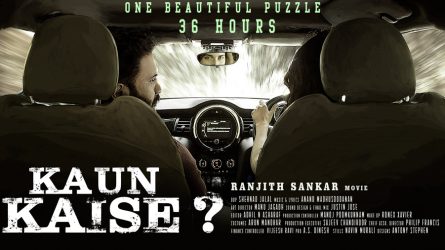 India, November 17, 2023: Brace yourselves for a cinematic thrill like no other as Dollywood Play, the prominent name in the world of OTT platforms, unveils an enthralling gem from the South- "Kaun Kaise?". This Indian Malayalam-language thriller film, known initially as "Kamala," is all set to captivate audiences across India as it dons a stunning Hindi-language avatar. This Diwali weekend Dollywood Play released their enigmatic thriller, promising to serve suspense, drama, and riveting excitement to the masses.
"Kaun Kaise?" is an exquisite creation of the visionary director Ranjith Sankar. This 2019 Indian Malayalam-language thriller film, entirely crafted by Sankar himself, is a mesmerizing tale of intrigue and suspense. Ruhani Sharma takes the helm in the title role, and by her side is the exceptionally talented Aju Varghese, embodying the male lead. With Anoop Menon and Biju Sopanam making noteworthy appearances, the ensemble cast breathes life into this gripping narrative. Anand Madhusoodanan's soul-stirring music and Shehnad Jalal's breathtaking cinematography elevate an already captivating story. Initially unveiled in theaters on November 29th, 2019, "Kaun Kaise?" garnered accolades for its spellbinding plot and remarkable performances.
Aneesh Arjun Dev, Founder, Promoter, and Managing Director of Dollywood Play, shares his enthusiasm about this exciting addition to the platform, stating, "We are beyond thrilled to welcome 'Kaun Kaise?' into our expansive content library. This film is a brilliant thriller that will have you at the edge of your seat, eagerly awaiting the next twist and turn in the plot. We believe that our Hindi-speaking audience will not only appreciate but be utterly captivated by this gripping cinematic experience."
Dollywood Play is a goldmine of entertainment, offering a versatile and rich content library. Their forte lies in curating well-organized content across popular genres such as Action, Thriller, Suspense, Drama, Comedy, Romance, and Horror. Today, Dollywood Play stands as a trailblazer in the OTT platform arena, providing high-quality content that caters to diverse tastes and preferences. Their extensive collection features a mix of full-length movies, shorts, clips, and songs, making it a one-stop destination for entertainment seekers.
Don't miss the captivating journey of "Kaun Kaise?" as on Dollywood Play. Prepare to immerse yourself in the enigma, suspense, and thrills that this exceptional masterpiece promises to deliver. This is one cinematic adventure you'll regret missing.