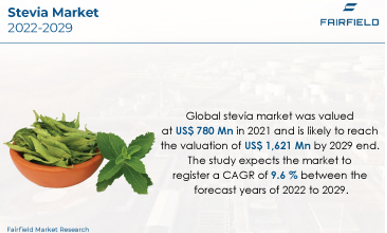 With more individuals seeking healthier food and drink, the demand for low-calorie sweeteners have intensified. In this landscape, stevia, a natural sweetener, has gained significant traction. Furthermore,  stevia boasts several health benefits, including its use in managing diabetes, reducing blood pressure, and aiding weight loss. Apart from this, stevia is 200 to 400 times sweeter than regular sugar. As a result, it is being used as a sugar substitute in a variety of applications, including beverages, confectionery, bakery, and dairy products. Now with the advancements in stevia extraction and refining technologies, the availability of high-purity stevia extracts have increased. Consequently, during the forecast years 2022 to 2029, stevia market is set to grow at a steady pace of 9.6% CAGR, reaching a valuation of US$1,621 Mn by the end of 2029. Given this fruitful business environment, industry leaders are expected to invest more in the market, particularly for product innovation.
Broad-Range of Application Across Food & Beverage Industry Facilitate Market Expansion
In recent times, the application of stevia has widened in the food and beverages industry. The efforts to reduce childhood by industry leaders are promoting the demand for sweeteners including stevia. Additionally, the steady growth in the production of confectionery items is anticipated to drive sales of stevia. While sucrose, dextrose, and corn syrups, are among most widely used sweeteners in the production of confectionery items, stevia has become the most sought-after alternative. This is due to the presence of desirable attributes in stevia such as sweetness, texture, and mouthfeel. Gauging the momentum of these trends across the food and beverage industry, the stevia market is expected to reach sound maturity.
Soaring Demand for Nutraceuticals to Create Substantial Business Opportunities
The ascending demand for nutraceuticals is influencing positive growth across the stevia market. Over the past years, unhealthy lifestyles and hectic schedules of consumers have led to the prevalence of health-related issues such as IBD and obesity. Consequently, influencing preference for healthy food and increasing health concerns among consumers. Against this backdrop, the demand for nutraceuticals is rising. And, stevia, with its natural origin and low-calorie content, is gaining popularity as a sugar substitute in nutraceuticals. This trend is anticipated to continue, unleashing significant growth prospects for the stevia market in the near future.
Asia Pacific to Dominate Global Industry Due to Increased Consumer Focus on Health
Asia Pacific is forecasted to be the leading stevia market in the global space. With a share of US$247.1 Mn, the Asia Pacific market is poised to grow at a value CAGR of 10.7% during 2022- 2029. The continuous product launches coupled with soaring demand for nutraceuticals is driving the regional market growth. In addition to this, key local players are adopting innovative strategies for stevia manufacturing in countries such as India and China. This has led to product differentiation, further driving the demand for stevia in the region. Besides, the growing preference for healthy food items is also playing a crucial role in the regional market growth.
Leading Market Players
Some of the key market players in the global stevia market include Archer Daniels Midland Company, Ingredion Incorporated, Cargill, Tate & Lyle Plc, PureCircle Ltd, GLG Life Tech Corporation, Südzucker AG, ORITA KAGAKU KOGYO CO., LTD, Sunwin Stevia International Inc, and The Real Stevia Company AB.
For More Information Read:
https://www.fairfieldmarketresearch.com/report/stevia-market