Headquartered in San Francisco, California, Databricks focuses on enterprise software solutions around data and AI. The company has developed advanced platforms that can interact with, process and analyze data stored across public cloud networks. Databricks was founded in 2013 by professionals who were the original developers of Apache Spark, Delta Lake and MLflow.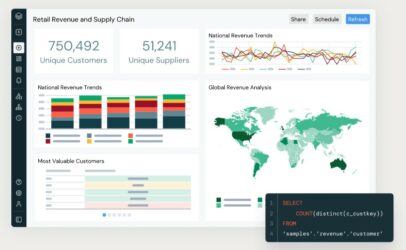 Databricks has huge potential, as it is the only company in the world to operate the lakehouse platform in the cloud. The company essentially combines the benefits of data lakes and data warehouses to create an open and unified ecosystem for data and AI.
History
The idea for Databricks came to the founders when they were looking to replicate the data warehousing capabilities of popular tech platforms such as Facebook, Uber, Airbnb, etc. The founders noticed that even though the huge data networks of these tech giants were useful, they were incredibly complex. The founders wanted to build a platform that would be much simpler, yet just as effective as large neural networks operated by tech giants. Their efforts eventually resulted in launch of Databricks.
Just like other startups, Databricks had also faced funding issues initially. The platform was creating a lot of buzz, but revenues were below expectations. However, the founders did not lose hope and continued to market their product. With time, businesses started to realize the potential of Databricks platform. Since then, there has been no looking back.
As of now, Databricks is being used by over 7,000 organizations across the globe. Some of the leading clients include Adobe, Toyota, Mars, FDA, GSK, S&P Global, Walgreens, AT&T, ABN AMRO, Condé Nast, Regeneron and Shell. Databricks is on a mission to democratize data and AI and work with partners to solve the toughest challenges facing humanity. Databricks' partners include Amazon, Microsoft, Capgemini, Informatica, Tableau and Booz Allen Hamilton.
Funding
Databricks has received investments worth US$ 3.5 billion via nine rounds of funding. Some of the key investors include Tiger Global Management, Andreessen Horowitz, New Enterprise Associates, Franklin Templeton Investments and Counterpoint Global.
Acquisitions
Databricks has made acquisitions such as Redash, 8080 Labs, Cortex Labs and DataJoy Inc.
Competitors
Databricks competes with the likes of Google Cloud BigQuery, Qubole, Snowflake, Dremio, Cloudera, Azure Synapse Analytics, Amazon Redshift, Teradata Vantage, Posit and Vertica.
About the Founders
Databricks was founded by Ali Ghodsi, Ion Stoica, Matei Zaharia, Patrick Wendell, Reynold Xin, Andy Konwinski and Arsalan Tavakoli-Shiraji. Ali Ghodsi currently serves as the CEO of Databricks. He is responsible for the company's growth and international expansion. Prior to launching Databricks, Ali had worked as an adjunct professor at UC Berkeley. His educational qualifications include an MBA from Mid-Sweden University.