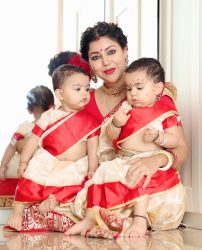 Debina Bonnerjee is currently in a very happy space personally and professionally. As far as personal life is concerned, she's the proud mother of two adorable little ones. Not just that, with Durga Puja all set to begin, the actress is super excited to enjoy this time with her family. Prior to this, Debina had a month-long tour in Europe before returning to Mumbai for Ganpati festival and now, she's all set to welcome and embrace Maa Durga's blessings in style.
While Navratri has already started, the vibe of Durga Puja can be felt everywhere as it's set to begin soon in the next couple of days. So, what does Debina Bonnerjee have in mind when it comes to celebrating Navratri and Durga Puja this year? The actress shares and we quote,
"Well, I have done my bit of shopping before the festival and now, the focus is to slay the fashion department in them. (Smiles). I also plan to visit some pandals around my house alongside the popular ones in Juhu, Lokhandwala and Versova to seek Maa Durga's blessings. To add to that, this Navratri is very special for us as a couple and hence Gurmeet and I will also be sitting together for the evening Navratri havan."
While Debina is a fitness freak who likes to keep her health in check, she plans to ditch all her worries regarding the same for the next few days by enjoying some special food prepared by her mother. Regarding the same, she shares and we quote,
"My mom is here and I plan to enjoy the special delicacies prepared by her. She is genuinely the best cook who prepares the best meals. We will also be going to nearby pandals for darshan and will also take part in cultural activities and games in different pandals."
Well, here's hoping Debina and her family enjoy and have a ball of a time this Navratri and may Maa Durga's blessings be with her and her family. Stay tuned for more updates.