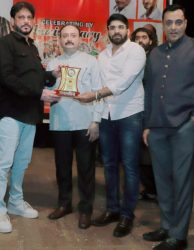 18th October 2023,Mumbai: The Digital Media Association, with esteemed figures such as the khadims of Ajmer Sharif Dargah, trustees of Haji Ali and Mahim Dargah, Suhail Khandwani, and All India Majlis E Ittehadul Muslimeen Spokesperson Advocate Waris Pathan, recently honored Dr. Ahmed Haque with the prestigious Public Affairs Award for his remarkable contributions to society.
Let's Know More About Dr. Ahmed Haque
Born on June 5, 1987, in Mumbai, India, Dr. Ahmed Haque was raised in a secular society that emphasized religious harmony and peace. Throughout his life, he has been an avid supporter of peace initiatives and has actively denounced terrorism. As the head of Masjid wa Madrasa Baitul Aakhirah, Dr. Haque advocates spreading the message of peace and love taught by Sufi saints to the masses.
Dr. Haque's Philanthropic Work
From a young age, Dr. Haque displayed a passion for humanitarian work. He has dedicated himself to uplifting socially backward individuals by providing housing, food, and education support. Additionally, he has taken a stand against domestic violence, drug abuse, human trafficking, and has spearheaded non-violence movements at a national level. Dr. Haque also actively promotes women's empowerment, peace, unity, environmental wellness, eLearning in rural areas, and mobile healthcare vans for public health.
Achievements and Valuable Recognitions
Dr. Ahmed Haque is recognized as a minority leader and a prominent advocate for peace, civil society, and positive change. He serves as an Advisory Board member of the Delhi Minorities Commission, contributing to maintaining peace concerning religious minority issues. Dr. Haque is also involved in several social initiatives that focus on monitoring political violence and upholding human rights.
Dr. Ahmed Haque's Just World Order Federation
Dr. Haque is the founder of the Just World Order Federation, an organization aimed at providing a support structure for individuals affected by an unjust system or society. The organization strives to give a voice to the affected individuals, allowing them to share their stories and offering the support they need to fight against injustice. Dr. Ahmed Haque's vision is to create a platform that empowers affected people to advocate for positive change and challenge injustices in society.