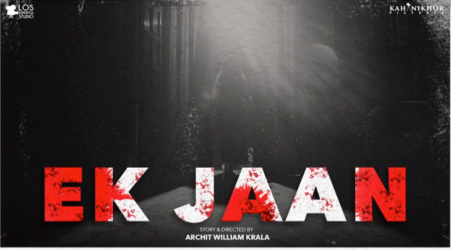 "Ek Jaan", a soul-numbing experience by Los Expertos Studio and Kahanikhor Pictures is out now! The short film, featuring Ramya Varghese, Tinu Thomas, and Neetu Chhabra revolves around the very sensitive yet important topic of mental health and suicide prevention. The narrative isn't the one you might have not heard but the direction of the film sets it apart from the rest of the films in the respective genre.
Despite the restrictions due to the pandemic, Director Archit William Krala and DOP Jatin Gohar have managed to pull off such a wistful yet heartwarming film with such artistry along with their team.
Singer-composer Anupam Dhonchak, Yuvraj Kaith, Simmy Sunny, and Reshabh Chhabra have managed to beautifully depict the melancholy of the story through their musical performances.
"In 2022, We want to bring such authentic and close to our hearts kind of stories forward via our channel", says Executive Producer Bivin Babu who happens to be the lyricist of the musical as well.
Los Expertos Studio and KahaniKhor Pictures intend to release much more content via multiple platforms in the coming months.
Do follow them for more: https://instagram.com/los_expertos_studio
https://instagram.com/kahanikhor_pictures