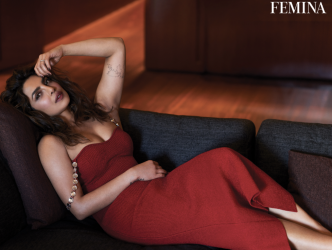 From beginning her journey as a Miss India in 2000, to making her name as a global star, Priyanka Chopra is now an exceptional multi-hyphenate – an actor, artiste, producer, mum, partner, restaurateur, philanthropist, author and investor with the world as her oyster. The one and only PCJ talks about her life and philosophy for living in an exclusive interview with Femina Editor-In-Chief Ambika Muttoo in the May 2023 issue.
Talking about her roles and characters as an actor, Priyanka revealed, "I think that a meaty role has never necessarily meant screen time to me. It has never been that I'm the face on the poster and I have to be in every scene. If it happens, that's great, but a meaty role is a complex character to me. You have to peel off the layers. You don't know what you're going to have right off the bat."
Priyanka added, "I think encouraging girls to have dreams is key. To be able to navigate their aspirations and not set a glass ceiling… We are so blessed to have parents who did that."
She also spoke of how not only her immediate family but also her extended family including her aunts, cousins, and in-laws have always supported her.
Ambika Muttoo, Editor-in-Chief of Femina, said, "In this interview, Priyanka unpacked everything from the nature of fame, its pitfalls and positives, and what kind of roles she's gravitating towards at this stage of her life. She remains eloquent and warm, but very obviously a force to be reckoned with, a reminder to all young women that they must chase their dreams with passion and determination."
Grab the latest issue of Femina – out on stands and online now – to read about Priyanka Chopra Jonas's journey.
————————————————————————————-