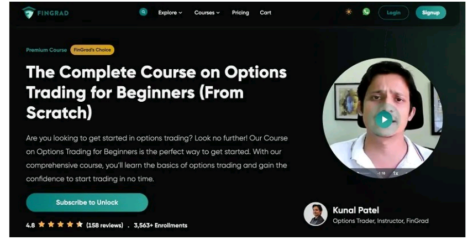 Bangalore-based Edutech Startup, FinGrad, has launched a complete Options Trading Course for Beginners on its learning platform with an aim to simplify options trading for all beginners. Within one month of launch, the course has got over 3,500 enrollments and is rated 4.8 by 157 students.
This new course offered by FinGrad Academy is created by Kunal Patel, a full-time trader with +8 years of experience in trading in equity and derivative markets, and is available in the Hindi language. The course claims to teach options trading to all beginners from scratch and in a practical approach.
The key concepts that this course explains are what is Options Trading and how it works, the Basics of Options Trading (Call/Put), Margin Requirements, Options Chain, Options Greeks, Technical Analysis required in Options Trading, How to pick strike price and take option trades, Options Trading Strategies and Trading Psychology with Money Management.
Commenting on the course, Kritesh Abhishek, founder of FinGrad said, "Options trading is one of the hottest skills to learn to make money online from the stock market. However, most content available online on Options trading is either theoretical or does not cover all aspects. In this Complete options trading course from Scratch, we tried to keep a practical approach by teaching all the required concepts of options trading through the right demos and examples."
Currently, the users can avail of this course by taking a subscription to FinGrad academy. The platform offers Basic, Premium, and Elite plan with a validity of 3 Months, 6 Months, and 12 months for the learners. After enrolling in the course, the users will get access to all the lessons, and demos of Options Trading along with a certificate of completion after successfully completing the final assessment.
FinGrad is a stock market learning platform with over 30,000 registered students and offers varied stock market courses on Intraday trading, options trading, technical analysis, futures trading, fundamental analysis, and more. The platform aims for imparting financial literacy in India and teaching stock trading and investing to all Indians.