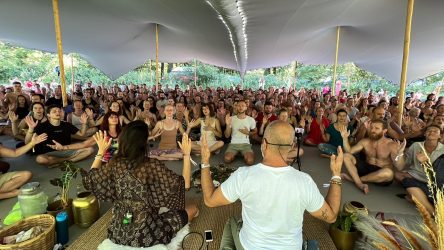 Bijay J. Anand is truly a multi-talented and multi-dynamic personality in the real sense of the term. From being a successful art consultant and International yoga guru to being an actor, he dons multiple hats at the same time and therefore manages to inspire many with his versatility in terms of talent. He recently attended the popular Healing festival at the Czech Republic where he did several workshops on the topics of spirituality and enlightenment.
Like a true and genuine human being, he embraces his success with open arms and at the same time, manages to stay humble to inspire innumerable individuals. Regarding the same, he says,
"The reason why I have nothing to gloat over or have an inflated ego over my success is that I consider myself blessed.
In deep gratitude for having had the guidance of my teachers as well as my karmas from my past life, I feel that I really have done nothing by myself to take any credit for."
He added,
"You see, we're all born with a profound 'higher purpose'. Some of us are lucky and discover that calling. Yes, I act, I advise my clients on art investments but my true calling is to spread the joy and bliss that I constantly experience in my life."
A glimpse of his coaching moment at The Healing Festival is going viral on social media. Check out below –
https://www.instagram.com/reel/CreLKL7sGxz/?igshid=MzRlODBiNWFlZA==
Given the fact that today's life is full of hustle and bustle, Bijay and his inspiring moments certainly help us understand the value of spirituality and health all the way more. Isn't the video absolutely amazing?
Let us know your views in the comments section below and for more updates, stay tuned to Bijay J. Anand's social media handle