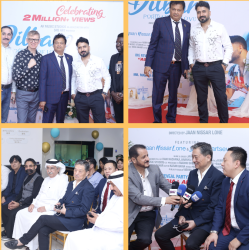 Under the expert curation of the esteemed AR Music Studios record label, a beacon in the world of creativity founded by the illustrious Bollywood Director and Producer, Jaan Nissar Lone, the international community came together in a jubilant celebration. This monumental event marked the triumphant inauguration of the majestic anthem titled "Convergence: Asia and Africa in Harmony." The resonant vocal prowess of the esteemed Bollywood songstress Rani Hazarika, meticulously orchestrated by AR Music Studios, production headed by Dr. Sergei Dvorianov, Line production in UAE by Hina Sahar and elegantly presented by SWAFE, graced the proceedings.
In attendance were luminaries of note, including Mr. Li, the distinguished Chairman of China's Business Council, and the visionary entrepreneur Mr. Madhu Shekhar Bhandari, embodying the entrepreneurial spirit of India. The gathering radiated an aura of commitment and promise, dedicated to nurturing global accord and tranquility.
Dignitaries and guests, hailing from every corner of the globe – spanning diverse landscapes from Ethiopia and Ghana to Russia, Armenia, Albania, Saudi Arabia, the UAE, Afghanistan, and beyond – converged under the shared banner of "Convergence: Asia and Africa in Harmony." The mesmerizing occasion not only unveiled the brilliance enshrined within the composition "DILBARO – PORTRAIT OF LOVE," a creation that garnered an astonishing 2 million views in less than a week, but also lauded the collaborative endeavor that underpinned the forthcoming anthem "Convergence: Asia and Africa in Harmony." This celebration stood as a testament to the profound power of art in interweaving the rich tapestry of cultures.
The ceremony exuded a palpable collective enthusiasm for the anthem's resounding message of unity, as its melodious strains swept through the gathering, invoking a profound sense of solidarity that transcended geographical confines. With the spotlight now focused on "Convergence: Asia and Africa in Harmony," guided by the luminaries such as Mr. Li and Mr. Bhandari, the notes woven within this composition possess the transformative potential to unite nations and ignite the flames of harmony.
This historic moment signifies an extraordinary fusion of music and diplomacy, heralding a new era of cross-continental synergy. With the resounding success of the inaugural ceremony resonating far and wide, the harmonious echoes of the anthem are poised to traverse the globe, establishing connections and alliances that seamlessly dissolve the limitations of geography. Championed by visionaries and embraced by nations, "Convergence: Asia and Africa in Harmony" stands as a living testament to the unparalleled capacity of music to nurture mutual understanding, harmony, and a shared global vision.