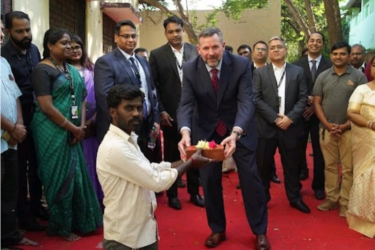 Chennai-: Guidehouse, a leading global provider of consulting, technology and managed services to public sector and commercial clients, today announced the building of sanitation facilities for girl students at Jaigopal Garodia Government Girls Higher Secondary School, in Nanganallur, Chennai. Guidehouse has earmarked an initial budget of Rs. 12 lakhs for building sanitation facilities for girls in the school.
With the help of NGO partner Bhumi, Guidehouse will be completing 6 toilets at the school by March 2023. Apart from constructing sanitation facilities, Guidehouse has also taken up other important renovation works at the school.
Charles Beard, COO Guidehouse, participated in the groundbreaking ceremony at the school. He also interacted with the girls students at the school. "Believe in yourself and you can do unbelievable things. I encourage all of you to dream big." Charles Beard said. Mahendra Singh Rawat, Country Head, Guidehouse India said – "Guidehouse's 'School Infrastructural Development Program' aims to boost the enrolment rate and reduce the dropout rate of girl students in the schools, and in turn, improve learning outcomes. Guidehouse is committed to the initiative of ensuring safety, dignity, and equality for all girl students. Providing hygienic sanitation for girl students will have a tangible impact on the level of education and in the long run, play a larger economic role in the communities and development of India's next generation".
Guidehouse CSR Committee "Karunya" commenced the project in 2023 and a special task force was constituted along with members of Bhumi for the end-to-end implementation. This involved collaborating with the government, strategizing, planning, and executing the project, by leveraging technology, to ensure successful and timely implementation.
Guidehouse has been constantly involved in the infrastructural development of educational institutions in the past in Nagercoil and Trivandrum. Guidehouse is keen to look into the infrastructure development of the schools in and around Chennai and take up further projects after reviewing the requirements. The focus area of Guidehouse's CSR Committee this year is the promotion of education, skill development, community development, and environmental sustainability.