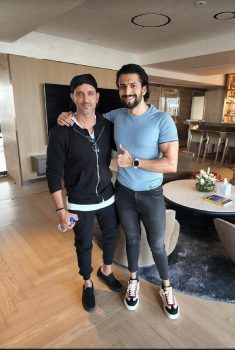 The role of fitness in our day-to-day lives is of immense importance. In today's time when everyone is busy with the regular hustle of city life, taking care of fitness is of utmost importance. One such individual who has always been a flagbearer of the same is Vijay Thakkar. Hrithik Roshan and Vijay Thakkar's equation dates back many years. The two of them have bonded wonderfully over the years and, well, the common 'love interest' that we refer to over here is fitness. While Hrithik Roshan is said to be a quintessential fitness icon in the country who has inspired an entire generation towards fitness, Vijay Thakkar, on the other hand, has played an instrumental role in terms of bringing scientific fitness to the community and guiding them the right way towards this form of art. Whenever Hrithik and Vijay meet, it is always a fun-filled conversation filled with laughter and enriching discussions on fitness. This time as well, when the duo met, it was pretty much the same.
For the unversed, Vijay Thakkar is an Indian author, celebrated functional medicine expert, and a dynamic entrepreneur whose heart and soul lie with fitness. His contribution to the fitness industry is immense, as he is known for introducing and leading international and cutting-edge standards in the Indian fitness industry. His flagship fitness brand became extremely popular among celebrities, including Hrithik, who, upon learning about Vijay's first book on debunking myths about diet and weight loss, instantly offered to pen down his own story and struggles with fitness and how he overcame all of it as a winner with a foreword in the bestselling book. Well, no one could have asked for a better fitness icon than Hrithik Roshan himself to write a foreword for a health book. This is also apparently Hrithik's first foreword in the latest bestselling fitness book in India, "Eating Less Is Making You Fat." Vijay is a regular columnist for top reputed publications, and his health columns are popular in leading platforms like Forbes, Moneycontrol, The Times of India, Hindustan Times, Indian Express, Femina, and more. An excerpt from his foreword in the book reads the following:
"We are more than eight billion people on the planet, but each one of us is so unique when it comes to not just our personalities but also the way our bodies function. 1 firmly believed 'body banana koi asaan kaam nahin hai' until I read Vijay's book, where he explains the science in the most accessible way – what I now call the trick and the truth of being fit.
Personally, I've always strived to give my best to fitness.
From a career point of view, walking a challenging path to discover my true inner potential has always been my mantra. Fitness, to me, is not just a professional requirement but something that is essential to my very existence. It has played an integral role in my career of over two decades, from Kaho Naa… Pyaar Hai to Vikram Vedha, the journey, and beyond. As an action hero, one has to be on one's toes; work is not only demanding but also challenging. Some of my roles demand that 1 be at the peak of a body type; this requires excessive preparation, but the base must always be ready. The base is nothing but the optimum level of fitness, be it muscular, cardio, flexibility, or mental strength. I believe this is needed in any profession. All you have to do is keep the base ready so that you can enjoy your life, your time with family…".
The foreword is extremely inspiring and support from an industry stalwart like Hrithik Roshan means the world to Vijay who's inspired all the way more to do good quality work in the field of fitness to make even more.
Stay tuned.