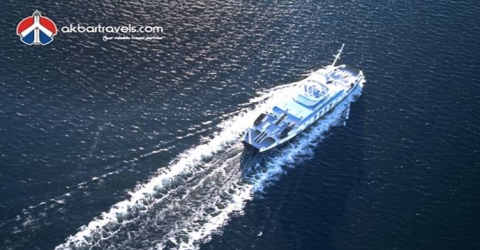 After an interruption lasting almost forty years, a high-speed ship is set to restart the passenger ferry service that will link India and Sri Lanka again. On Saturday, Sarbananda Sonowal, the Union Minister of Ports, Shipping & Waterways and Ayush, officially launched "Cheriyapani," a ship that will connect Nagapattinam in Tamil Nadu with Kankesanthurai in Sri Lanka's northern province. This development holds significance not only for travel and trade but also for easing access to the Sri Lanka Visa for Indians. It comes as good news for Indians having a Sri Lanka trip up next.
If you are planning to embark on this remarkable ferry, approach a travel agency that makes applying for a Sri Lanka Visa a breeze. Go nowhere as Akbar Travels stands to help you with that. With its no-fuss processes that require minimal documentation, the agency facilitates online Visa applications and booking the best hotels in Sri Lanka. Sri Lanka tour packages by Akbar Travels include the best of everything, making your journey an unforgettable experience.
On Saturday at 8:15 am, the ferry "Cheriyapani" set sail from Nagapattinam port en route to Kankesanthurai with a total of 50 passengers and a crew of 12, led by Captain Biju George. The voyage is anticipated to take approximately three hours to reach its destination. Prime Minister Narendra Modi expressed his appreciation following the resumption of the passenger ferry service. In a video message, he remarked, "We are embarking on a new chapter in the diplomatic and economic relations between India and Sri Lanka. The launch of the ferry service between Nagapattinam and Kankesanturai is a significant milestone in fortifying our bilateral ties.
Representatives from the Nagapattinam Shipping Harbour Department unveiled a unique promotional fare for October 14, offering a one-day rate of Rs 2,800, which included a base fare of Rs 2,375 and an 18% tax. This amounts to a noteworthy 75% reduction from the standard ticket cost of Rs 7,670 per person, which includes a base fare of Rs 6,500 in addition to an 18% GST. Notably, at least 30 travellers had secured their tickets at this discounted rate for the voyage.
Originally scheduled for October 10, the ferry service encountered administrative challenges that necessitated two rescheduling adjustments, eventually setting the launch date for October 14. This venture, operating under the India-Sri Lanka Joint Committee, holds the primary objective of revitalizing regional trade, boosting tourism, and nurturing deeper people-to-people connections. This initiative rekindles the historical maritime bonds that have linked the two nations since the early 1900s.
Many decades in the past, the Indo-Ceylon Express, which operated between the port city of Thoothukudi and Colombo via Chennai, ceased its operations following the Sri Lankan civil war in 1982. The revival of ferry services occurs two years after the signing of a passenger transportation Memorandum of Understanding (MoU) between the two nations. The idea for the India-Sri Lanka ferry service was initially proposed in 2011. During that time, two distinct services were contemplated: one linking Thoothukudi and Colombo, and the other connecting Rameswaram with Talaimannar.
In conclusion, the revival of the India-Sri Lanka ferry service renews historical connections and opens up new opportunities for trade, tourism, and cultural exchange. This development holds immense promise for travellers, offering them a cost-effective means to explore the beauty of Sri Lanka. As the passenger service restarts, it facilitates smoother access to Sri Lanka Visa for Indians. Additionally, it's a boon for the hospitality industry. The initiative will also boost travel and accommodation with an array of options at Hotels in Sri Lanka. The future seems bright for this renewed link between these neighbouring nations.