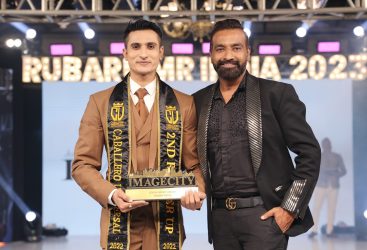 In a moment of pride for his social media fans, Kramik Yadav has garnered further recognition by being bestowed with the highly esteemed Imagecity Social Media Impact Award.
Kramnik Yadav is an esteemed international model and current titleholder of Mr. India 2022. He is a prominent figure in the Indian pageant industry, who has gained significant acclaim and admiration for his exceptional contributions to the industry. With a string of prestigious awards and accolades from esteemed organizations and institutions, his exceptional work has firmly established him as a prominent figure in the field. With an unparalleled dedication to his craft and an unwavering commitment to inspiring and uplifting his audience, he has emerged as a prominent figure in the industry, garnering a devoted and ever-growing fan following.
Yadav's impact reaches well beyond the confines of the fashion world, as he has effortlessly forged a deep connection with his loyal fan base via various social media platforms. With a captivating presence and compelling content, he has managed to amass a significant following, attracting admirers from various backgrounds who are drawn to his inspiring journey. Yadav, with his compelling rhetoric, impactful deeds, and magnetic persona, has risen as a symbol of optimism and an exemplar for the younger generation, thus garnering the esteemed distinction of being hailed as a Youth Icon.
In the world of fashion and pageantry, Kramik Yadav has emerged as a true trailblazer, redefining the meaning of excellence. With an undeniable magnetism that captivates all who encounter him, Yadav's unwavering commitment to his craft has raised the bar to unprecedented heights. The Imagecity Social Media Impact Award serves as a testament to his remarkable accomplishments and his unparalleled capacity to engage and motivate millions. Yadav was bestowed with the prestigious award on August 4th, 2023, amidst a splendid ceremony that took place at the Bogmalo Beach Resort in the captivating region of South Goa.
But, the Imagecity Social Media Impact Award was just another feather in Yadav cap's and further solidifies his impressive track record. In a remarkable display of talent and dedication, Kramik Yadav was honored with the prestigious Dadasaheb Phalke Indian Television Award last month. This esteemed recognition serves as a resounding testament to Yadav's extraordinary contributions to the illustrious Indian pageant industry. Not only did he secure the prestigious Mr. India 2022 title, but he also garnered further recognition at the 2022 Rubaru Mr. India competition by being honored with the esteemed Best in Talent award. In a remarkable achievement, he has been honored with the prestigious Pride of India award and acclaimed as the Style Icon of the Year 2023 in both Goa and Gujarat. These accolades solidify his position as an unstoppable presence in the realm of fashion and pageantry.
The remarkable journey of Yadav, a trailblazer in his own right, started in the vibrant state of Gujarat. His awe-inspiring achievements have reverberated across vast distances, leaving an indelible mark on the hearts and minds of many. In a remarkable feat that garnered attention both at home and abroad, he clinched not one, but two prestigious titles on the international stage last year. The Caballero Universal second runner-up and Caballero Universal Elegance 2022 crowns were bestowed upon him, elevating India's reputation and filling the nation with immense pride.
Kramik Yadav's luminous talent continues to captivate, solidifying his enduring legacy and making an indelible impression on the realm of fashion and beyond. Let us wish him all the best for his future endeavors.