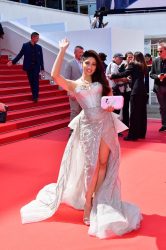 Iti Acharya made her second red carpet appearance at the Cannes Film Festival in a white and silver Gattinoli by Marwan gown and it was almost as eye-popping as her first. She was seen carrying tarini Nirula yoga boat pose minaudière clutch and wearing a delicate piece by Khea Jewellery. Mesmerizing all with her sartorial prowess, she shone in the dress that seemed to lit up the entire red carpet.
A strong bodice with delicate net surrounding it, the gown looks royal and magnificent. It is embodied with heavy silver work lining the sweetheart neckline as well as the entire length of the skirt. With a high slit in the front, it served as a perfect amalgamation of classic and modern allure.As far as dramatic gowns go, this one is fairly high-octane. The pretty actress accessorized the look with minimal jewellery, soft makeup and a simple hairdo.
Iti Acharya's arrival at the Cannes Film Festival also served as a true portrayal of Indian designers on a global stage.Her belongingness in the festival further strengthened the cultural exchange between India and the international film community. Her flawless red carpet appearances were a testament to her support and love for Indian based designers that have established her as a true fashion icon.