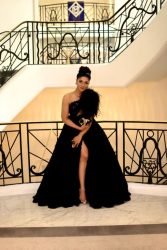 As the world's eyes turned towards the Cannes Film Festival, Iti Acharya arrived in a stunning ensemble that perfectly showcased her impeccable sense of style. Donning a glamorous gown adorned with beautiful details, she exuded an aura of timeless beauty, effortlessly blending classic sophistication with a touch of modern allure. Iti Acharya's first red carpet look at Cannes film festival was spotted for movie Anselm, directed by Wim wenders. As an ambassador of her country's rich style and culture, she showcased the diversity, talent, and storytelling prowess that have made India a global phenomenon.
Iti can be seen wearing a black high sit one shouldered gown, paired with diamonds jewellery from Khea Jewellery from a Bangalore based jeweller and a black hand clutch with handcrafted Humming bird by delhi based Tarini Nirula Accesories keeping in mind her vision of "India at Cannes.
"My very first Cannes look was a success and I couldn't be more proud to represent my country on a global level. It feels like a privilege to be here amongst so many talented and great personalities, witnessing history being made!" Said Iti
Iti Acharya's presence at the Cannes Film Festival also served as a proud representation of Indian cinema on a global stage.Her participation in the festival further strengthened the cultural exchange between India and the international film community. Her flawless red carpet appearance was a testament to her sartorial prowess and established her as a true fashion icon.
Extremely proud moment for Bangalore based actress- producer Iti Acharya, being a cultural ambassador to India recognised by Ministry of Culture, Govt of India , to recieve greetings from honourable minister Dr L Murugan at Indian Pavilion, post her first red carpet at Cannes 2023.