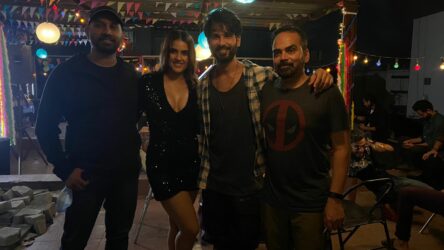 The countdown for the upcoming Prime Video original series, Farzi, has begun, with just two days remaining to open the gates to this thrilling Hindi ride. Kavya Thapar who will be seen opposite Shahid Kapoor in the series portrays the character of an extrovert girl who believes in loving life to the fullest. She reveals details about her role and the weightage that it adds to the entire narrative of the series.
Talking about her character, Kavya spills , " I play the part of Ananya who is Shahid Kapoor's girlfriend in the show. Her character is an integral part of the story as she is this rich, obnoxious woman who doesn't accept her boyfriend's financial status publicly. That somewhere influences Sunny (Shahid's character) and his future actions. I have an introductory part in season 1, but in season 2 my character will be developed further."
Sharing about working with Bollywood's chocolate boy Shahid Kapoor, she further adds, "It was amazing to get a chance to work with Shahid Kapoor. He is a natural actor obviously and has a charm that you can't deny."
Created and directed by Raj and DK, Farzi was shot in the beautiful city of Goa. The series has also been written by Sita R Menon and Suman Kumara and produced by D2R Films. This intriguing and catchy series will premiere from 10th of February and we are sure it's going to be amazing!