~64 Durga Puja Committees to participate in the Kolkata Thunderbolts talent promotion tournament 'Thunderbolts Cup – Season 2'~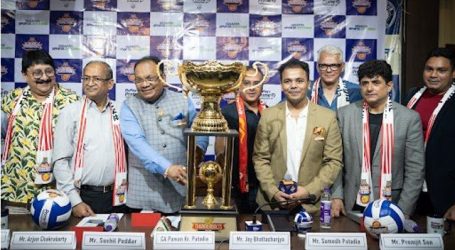 Kolkata: Kolkata Thunderbolts announced their 'Thunderbolts Cup, Season 2' in association with Accolade Management Services. This was commenced in the esteemed presence of Mr. Joy Bhattacharjya, CEO, Prime Volleyball League (PVL) & Director General, Federation of Indian Fantasy Sports, Mr. Sushil Poddar, President Confederation of West Bengal Traders Association, Mr. Arjun Chakraborty, Celebrated Director & Actor, Mr. Premjit Sen, President Karate Association of Bengal, Mr. Joydeep Karmakar, Arjuna Awardee for Shooting, Mr. Dibyendu Barua, Grandmaster Arjuna Awardee for Chess, CA Pawan Kumar Patodia, Chairman & Principal  Owner Kolkata Thunderbolts, Mr. Sumedh Patodia, Team Director & Co-Owner Kolkata Thunderbolts, Md. Fidaul Haque, Managing Director Accolade Management Services, and other eminent dignitaries from both the sports and cultural spheres.
This unique sporting event aims to celebrate the festive spirit of Durga Puja while promoting unity, sportsmanship, and community engagement among enthusiasts. The tournament aims to engage, educate, and entertain Kolkata's sports loving communities. One can expect greater excitement and fierce competition as the best teams from Bengal compete for the championship title in a celebration of sportsmanship and cultural festivities. "We promise to entertain the people of our beloved state with great games of volleyball while promoting our local talent through our nationally popular platforms. We are proud to become a part of and contribute to the cultural heritage of the city, a declared world heritage by UNESCO thanks to the efforts of our government!" remarked Mr. Patodia, Chairman & Principal Owner of Kolkata Thunderbolts.
Thunderbolts Cup has earned itself the reputation of being amongst the biggest talent promotion platforms in Volleyball in the country with Kolkata Thunderbolts actively scouting players for its PVL squad through this tournament. Last year, Kushal Munshi from Howrah Annapurna got recruited by the Thunderbolts Committee and went on to play for the Kolkata Thunderbolts in PVL season 2, helping them in their efforts to achieve the league-toppers and semi-finalist position.
The cup would be held from 17th to 23rd September, 2023. It would be played over 6 days in a league+knockout format at Orchid Arena, Calcutta Boating Club. The event would witness a participation of 64 top Durga Puja Committees with
around 640 volleyball players. The 64 teams would be further divided into 16 groups comprising of 4 teams each. Each group's winner would qualify to play the knockout Round of 16, followed by the Quarter-finals, semi-finals and finals. The teams would also get a chance to win prizes worth Rs. 3 Lakhs +. The deserving players might get a chance to play for Kolkata Thunderbolts via player scouting.
The Thunderbolts Cup is the biggest celebration of Volleyball to be organized in Bengal, marking the celebrations of the festive season a couple weeks earlier than scheduled.
About Kolkata Thunderbolts
Kolkata Thunderbolts is inaugural season champion franchise in the RuPay Prime Volleyball League (PVL) in India. The team was founded in 2021 and owned by renowned industrialist and entrepreneur CA Pawan Kumar Patodia. Their aim is to bring the sport of volleyball into the main stream and make it an integral part of sporting culture in Bengal. PVL is streamed domestically on Sony Sports Network in 5 languages, and internationally on Volleyball World, with a season cumulative viewership of 205+ million in just 2 seasons.