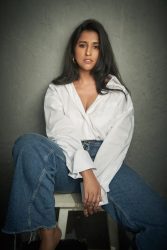 Krishna Gautam, the talented actress known for her captivating performances in movie "12 O'Clock", shines in her latest photoshoot, exuding boldness, beauty, and confidence. Brought up in Delhi, Krishna's journey as yet to emerge as renowned actress and entrepreneur is nothing short of inspiring.
In the photoshoot, Krishna Gautam displays a remarkable blend of elegance and charisma. Her captivating presence and confident demeanor reflect her passion for her craft and her dedication to delivering impactful performances on the big screen. With each project, Krishna continues to push boundaries and showcase her versatility as an actress.
As an emerging talent in the industry, Krishna Gautam is poised to make a significant impact with her upcoming projects. Her relentless pursuit of excellence and her ability to embody diverse characters have garnered attention and admiration from both critics and audiences. With her bold and confident aura, Krishna is set to leave a lasting impression in the world of cinema.