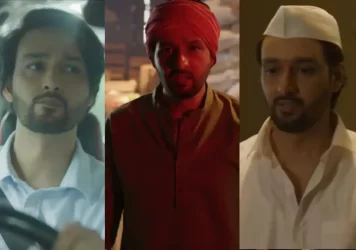 Sourabh Raaj Jain is a popular name in the TV industry. He is the one who has played multiple mythological characters in many TV shows and ruled all. From Mahabharat to Mahakali – Anth Hi Aarambh Hai, Sourabh Raaj Jain has come to be known for playing mythological characters with utmost perfection. But what's next for him? While we cannot reveal much details but can say that something very interesting is on the way for Sourabh Raaj Jain's fans. The leaked pictures giving a hint of his upcoming project are proof of it. Amidst the mystery around his next project, Sourabh Raaj Jain visited Vrindavan and created fan frenzy of sorts.
Bollywoodlife.com got their hands on Sourabh Raaj Jain's pics from Vrindavan and we can see that he is surrounded by fans and media. He seems to be completely soaked in the holy vibe of Vrindavan with a garland around his neck. Sourabh Raaj Jain kept it simple and casual in a white shirt and jeans. His yellow glasses though added the fun to his look.
Earlier, total of four looks of Sourabh Raaj Jain have been leaked online. What has left fans intrigued is that all the four looks are very different from each other. One of the pics has Sourabh Raaj Jain looking like a dabbawala, another has him looking like a labour worker, the third picture had him driving a car. Fourth and the latest picture that got revealed today has him looking like a college student seated amidst friends.