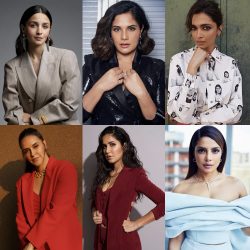 Bollywood, often referred to as the heart of Indian entertainment, is not just about acting and glitz anymore. In recent years, several talented actresses have ventured into the world of business, proving that they are more than just stars on the silver screen. As we celebrate Business Women's Day on September 22nd, let's take a closer look at some of the leading ladies of Bollywood who have successfully donned the entrepreneur's hat.
1. Alia Bhatt:
Alia Bhatt, known for her versatility as an actress, is equally adept as an entrepreneur. She co-owns 'Eternal Sunshine Productions,' a flourishing production house that has delivered hits like 'Darlings' and 'Gangubai Kathiawadi.' But Alia's entrepreneurial journey doesn't stop there. The new mother has also ventured into the world of fashion, launching her brand 'Edamama,' catering to babies and moms-to-be. Her dedication to both her craft and business ventures makes her a true inspiration for many.
2. Richa Chadha
Richa Chadha, a powerhouse performer, decided to take her career to new heights by stepping into production. She co-founded 'Pushing Buttons Studio' along with her husband, Ali Fazal. Her maiden production, 'Girls Will Be Girls,' showcases her commitment to creating meaningful and impactful content. Richa's foray into production at an early stage in her career challenges the industry norm, where many actors turn to production only later in their careers.
3. Deepika Padukone
Deepika Padukone's journey from a talented actress to a successful entrepreneur is nothing short of remarkable. She recently launched her skincare brand, '82E,' which took the market by storm with its niche self-care products. Deepika's strategic move to rope in superstars like Shahrukh Khan and Ranveer Singh for endorsements on social media further catapulted her brand into the spotlight. She recently also announced an investment into a popular coffee brand, Blue Tokai.
4. Katrina Kaif
Katrina Kaif, known for her beauty and grace, expanded her horizons by co-owning 'Kay Beauty,' a brand that offers a wide range of makeup and skincare products. With her brand receiving accolades from beauty enthusiasts, Katrina has cemented her status as a successful entrepreneur in addition to being a top-notch actress.
5. Neha Dhupia
Neha Dhupia is a true all-rounder in the entertainment industry. As a model, pageant winner, actor, and producer, she continues to shine brightly. Her production company, 'Big Girl Productions,' has brought fresh and engaging content to the audience. Neha's celebrity audio show, '#NoFilterNeha,' has become one of the most popular podcasts in the country. Furthermore, her parenting community initiative, 'Freedom to Feed,' supports and empowers mothers in their breastfeeding and parenting journey.
6. Priyanka Chopra
Last but certainly not least, Priyanka Chopra, a global icon, has ventured successfully into various industries. She owns 'Anomaly,' a haircare brand that's making waves in the market. Additionally, Priyanka manages 'SONA Home,' offering luxury dinnerware. Her ability to conquer diverse fields while maintaining her position as a top-tier actress demonstrates her unparalleled work ethic and business acumen.