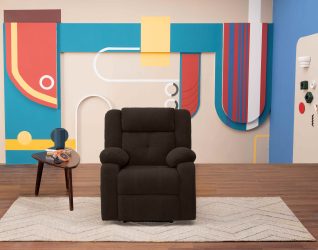 Decorating your living room is exciting and creative, like an ongoing exhibition of trends and items you love. Your home speaks of you, your moods, your evolving style, curios and the people you invite and enjoy your space with. Making the home bit-by-bit yours is highly rewarding as you see pieces of your liking coming together to frame a home that's your comfort space, your "no judgment space'.
Styling is personal so we leave that to you, here are some curated tips to explore different elements of decor :
1. Check out the Layout: Consider arranging your furniture to promote the kind of group setting and spaces you want. Create distinct areas for different activities, conversations and walking through space.
2. Decor on the wall: Your aesthetic side can be vividly displayed by choosing artwork and wall decor that match your style. A gallery wall which shows your best memories, travel highlights, favourite artists etc.
3. Invest in comfortable seating: Comfortable and high-quality seating options, such as a sofa, armchairs, or a sectional make your seating areas welcoming and warm for your family and guests. Young brands like Sleepyhead offer various comfortable and colorful seating options that match your vibe, your needs and style.
4. More for the floor: Anchor the seating area and add a layer of comfort to your living room with a rug that brightens the room and complements overall theme
5. Heart on Sleeve: Homes that tell a story are the most beautiful ones. Infuse your living room with cherished memories by displaying family photos, travel souvenirs, or sentimental items. This personal touch will make your living room feel uniquely yours.
6. Functionality Frenzy: While you seek out that favourite couch that you can sink into, also look for options that have practical features. Like relationships, once the honeymoon period is over, you will thank yourself for picking a recliner that has a SUB port or hidden storage in coffee tables. Beauty can be functional.
7. Let There Be Light: Pick a mix of lighting sources, including overhead fixtures, floor lamps, table lamps, and candles. Lighting can totally change the mood and create a warm and inviting atmosphere for your house.
8. Green Dream: Nothing says peace and freshness like nature. Pick plants and pots that can brighten a corner, accentuate a balcony and prop your coffee table.
9. Cover your Windows: Use curtains or blinds to add softness and privacy to your windows. Choose fabrics and styles that complement your decor.
10. Pile on Pillows and Throws: Accessorize your seating with decorative pillows and soft throws. These accents add comfort and a pop of color or pattern to your living room.
11. Twist modern with vintage: Marry a modern look with a vintage twist by incorporating old lamps painted in colors that suit your furniture. This can be a complete hobby project also. Paint that chest of drawers pastel, go.
12. Mary Kan- do it: Yes, your house looks great, but it has to be functional for your daily usage and make things easier for you. Invest in thoughtful storage solutions. Utilize shelves, cabinets, and decorative baskets to tuck away belongings while enhancing the overall decor.
By blending your personal style with elements that promote comfort and functionality, you can create a captivating living room that reflects your personality and becomes the heart of your home.