9th Nov 2023
9:00am to 5:00pm
Address Dubai Marina, United Arab Emirates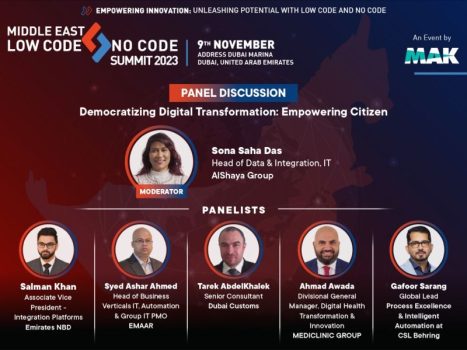 The global low-code development platform market predicts to generate a revenue of $187 billion by 2030, rising from $10 billion in 2019. It is expected to advance at a fast pace, 31% CAGR, during the forecast period. The COVID-19 pandemic accelerated the need for rapid application development and BPA and RPA processes. Organisations have embraced 'citizen developers' to cope with this change, and Low-Code/No-Code development is a critical part of the digital transformation toolset. The past 12 months have seen increased adoption of cloud technologies in government and private industries. Low-Code and AI tools simplify software development, allowing companies to move faster and wiser.
The one-day summit will host 20+ speakers and attract 100+ industry-specific experts to discuss the best practices on various strategies and topics covering the latest Low Code platform and applications that are changing how organizations work.
WHY ATTEND?
From construction to deployment, how does a low code platform reduce the time required to build, deploy, and change cutting-edge, powerful enterprise apps?
Replacing lengthy, complex, and highly time-consuming coding practices with simple drag and drop so developers can create applications visually, resulting in faster time-to-launch.
Low code or No code, which one is better on an enterprise level and individual level.
They are empowering IT to build their apps 5X faster than traditional app building.
Security and scalability of the low code apps and platforms, the correct standard code tool has all the security certificates and proven experience with large-scale initiatives.
Low code workflow automation is one of the necessary tools to increase work productivity at all levels of corporate and enterprises.
Instant and easy mobility, build once and deploy everywhere.
SAVE YOUR SEAT FOR MIDDLE EAST LOW CODE NO CODE EVENT – https://melowcode.com/register/
SPONSOR/EXHIBIT – https://melowcode.com/become-a-sponsor/
MEDIA PARTNERSHIPS – shayantani@makconferences.com
Phone: +971 50 376 1665
Social Links :
LinkedIn – https://www.linkedin.com/company/90769738/
IG – https://www.instagram.com/makconferenceshq/
Youtube – https://www.youtube.com/channel/UCO8bBHWDYd1JRcgUVfIxyzg
Organized by Mak Conferences