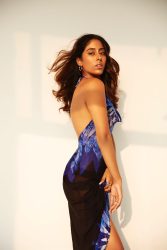 There's a saying that when you begin, you must begin with a bang and come out all guns blazing. Well, that's exactly the mantra that Apurrva Soni seems to be following in her life already. She's always believed in climbing the ladder of success higher and higher and that's why, her progress is certainly visible to one and all.
After sending shockwaves in the world of modeling for the longest time, Apurrva created an impact with her work in the popular web show 'Undekhi' and from there onwards, there was simply no looking back for this damsel. She's earlier been in the top 10 of Femina Style Diva 2014 and has shot commercials with reputed brands like Nykaa, Myntra, Sugar Cosmetics, Mac, Mahindra & many more. Not many are perhaps aware of the fact that she's also the cover girl of the January 2016 issue of India Today magazine and was also among the top 16 in MTV's India's Next Top Model season 3 in 2017.
She's all the makings of being one of the sexiest divas around and why not? Confidence is indeed the key and that runs in her DNA. Trust us when we say this, her charming personality does remind us immensely about the legendary Smita Patil. While we might be talking about all 'Bollywood' stuff here, there's something really exciting that's happening at her end at present which has a Hollywood connection.
Yes folks, you heard that right. If the grapevine is to be believed, there's a high chance that this talented young actress might soon be sharing screen space with a Hollywood superstar. She might be a new kid on the block but her attitude and high spirit certainly has the potential to take her to places.
So, is she all set to be our very own 'Indian version' of Sharon Stone or Scarlett Johansson going forward? Well, there's no dearth in the potential part of it. A blend of good fortune and luck might just make that a reality for this former supermodel. With buzz being strong about her being a part of a Hollywood project soon, it has certainly raised a lot of eyebrows and left many wondering as to what she's in the making. Till then, patience seems to be the virtue.
How excited are you all to find out more about Apurrva's next professional move? Let us know your views in the comments section below and for more updates, stay tuned.