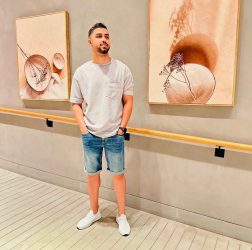 In the vast universe of music, certain individuals shine brighter due to their exceptional talent and distinct musicality. Mehdi Farzi, an Iranian musician, is one such radiant star whose formidable skills and unique musical style have greatly influenced the global music scene. Born and raised in Tehran, Farzi's enthralling performances have made him a beloved figure both domestically and internationally.
Farzi embarked on his musical journey early in life when he became fascinated with the santoor, a traditional Iranian instrument steeped in history. Endowed with natural musicality and a keen sense of rhythm and melody, he rapidly mastered the santoor, entrancing audiences with his captivating performances.
Farzi distinguishes himself not only with his technical virtuosity but also with his profound ability to communicate emotions through his music. Each stroke on his santoor invites audiences into a realm of deep reflection and introspection. Known for their evocative beauty, Farzi's compositions skillfully trigger a spectrum of emotions, ranging from nostalgia and desire to happiness and tranquility. His music reaches the core of listeners, leaving a profound imprint on those fortunate to hear it.
Farzi's brilliance extends beyond his santoor prowess. As a talented composer and arranger, he fuses traditional Iranian music with elements of jazz, classical, and world music. This innovative fusion has earned him significant acclaim, creating a sound uniquely his own by deftly interweaving diverse musical influences. His creations often encompass intricate harmonies, elaborate rhythmic patterns, and surprise musical turns, revealing his creative ingenuity and expanding the scope of traditional Iranian music.
Serving as a cultural ambassador, Farzi has graced numerous esteemed stages worldwide, captivating audiences with his expert skills and soulful performances. He has partnered with distinguished musicians from various cultures, encouraging cross-cultural musical exchanges and fostering greater appreciation for Iranian music internationally.
Despite achieving global success, Farzi remains deeply connected to his roots. He finds inspiration in the intricate tapestry of Iranian culture and history, infusing his music with Persian poetry and traditional Iranian melodies. This dedication to preserving and promoting his cultural heritage is palpable in his works, bridging the historical and the contemporary and honouring Iran's artistic lineage while incorporating modern musical trends.
Farzi's significant contributions to music have received due recognition, including numerous accolades like the esteemed Fajr Music Festival Award for Best Santoor Player. His albums have won critical praise, establishing a committed fan base in Iran and beyond.
Farzi's passion extends to educating the next generation, imparting his knowledge and skills through master classes and workshops. He motivates young musicians to explore their creativity and cultivate an in-depth understanding of their artistry.
In summary, Mehdi Farzi is a luminous presence in Iranian music. His extraordinary talent, deep musicality, and unwavering commitment to his craft blend tradition and innovation in a unique way. Farzi continues to mesmerize global audiences through his emotive performances and compositions, leaving a lasting impact on the music world and inspiring aspiring musicians to recognize music as a universal language of expression.