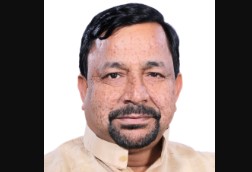 Mukesh Rajput is an Indian politician and a Member of Parliament (MP) from the Lok Sabha constituency of Farrukhabad in the state of Uttar Pradesh. Mukesh is a member of the Bharatiya Janata Party (BJP). Farrukhabad Lok Sabha constituency comprises assembly constituencies of Aliganj, Kaimganj, Amritpur, Farrukhabad and Bhojpur.
Mukesh has won from Farrukhabad in 2014 and 2019. Farrukhabad is an important Lok Sabha seat in Uttar Pradesh. In earlier elections, top leaders such as Salman Khurshid, Sakshi Maharaj and Ram Manohar Lohia had contested and won from Farrukhabad.
In 2014 Lok Sabha election from Farrukhabad, Mukesh Rajput had defeated his nearest rival Rameshwar Singh Yadav of Samajwadi Party (SP) by a margin of more than 1.5 lakh votes. Mukesh received 41.84 percent of the votes, whereas his nearest rival got 26.34% votes.
In 2019 election, Mukesh improved his vote share to 56.82 percent. He defeated his nearest rival Manoj Agarwal of Bahujan Samaj Party (BSP) by a margin of more than 2.20 lakh votes.
2019 election from Farrukhabad was a major victory for Mukesh, as much of the opposition parties had fought together under the banner of 'mahagathbandhan'. Even then Mukesh managed to win the election by a huge margin. It goes on to show his popularity in the constituency.
However, Mukesh has also been in the news for some controversial issues. For example, it was once alleged that Mukesh had not paid his electricity bills worth Rs 6 lakh. It was also alleged that he had threatened a member of the electricity distribution department. Replying to such accusations, Mukesh had said that the electricity bill was wrong and needs to be corrected. He had denied threatening anyone.
Early Life, Education and professional career
Mukesh Rajput was born on August 08, 1968 to Shri Lajjaram and Smt. Chandawati. He was born in Farrukhabad. His educational qualifications include B.Sc. and he had studied at R.P. Degree College, Kamalganj, Farrukhabad, Uttar Pradesh. On June 10, 1980, he had married Shaubhagyawati Rajput. By profession, Mukesh is an agriculturist.
Political Career
2000 – 2005: Chairman, Zilla Panchayat, Farrukhabad
May, 2014: Elected to 16th Lok Sabha
1 Sept. 2014 – 25 May 2019: Member, Standing Committee on Agriculture; Member, Consultative Committee, Ministry of Food Processing Industries
15 Sept. 2014 – 25 May 2019: Member, Committee on Member of Parliament Local Area Development Schemes (MPLADS)
May, 2019: Re-elected to 17th Lok Sabha (2nd term)
13 Sept. 2019 onwards: Member, Standing Committee on Railways; Member, Consultative Committee, Ministry of Jal Shakti
Personal Pursuits
Mukesh Rajput has continuously worked for the upliftment of poor, oppressed, exploited and backward classes. He has been actively involved in a wide variety of social service projects. He has interests in agriculture, railways and agro-processing. In sports, he likes cricket and badminton. He also practices yoga regularly.