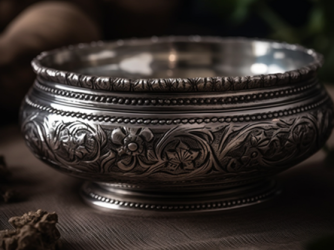 HYDERABAD, TELANGANA – Namdhari Dynasty, known for its exquisite craftsmanship and legacy, proudly announces the opening of its newest store dedicated to all things Silver. Nestled in the heart of Banjara Hills, this luxurious store promises to be a beacon for silver enthusiasts.
Located at Namdhari Towers, Road No. 10, Gouri Shankar Nagar Colony, the emporium shines as a testament to the brand's dedication to quality and heritage. From intricate Silver Artifacts and resplendent Silver Ornaments to bespoke Silver Jewellery, the store is a treasure trove for those with a discerning eye.
But that's not all; patrons can also explore a curated selection of Silver Coins and Bars, perfect for both collectors and investors. It's not just a store; it's a journey through the rich history and artistry of silver, crafted to perfection.
"Namdhari has always been synonymous with trust, elegance, and legacy. With this new store, we aim to bring our patrons closer to the world of silver, offering them not just products but an experience," says Maninder Singh Malhotra, during the store's unveiling.
Located conveniently at Banjara Hills, a locale known for its luxury and charm, Namdhari Dynasty invites all to indulge in an unparalleled shopping experience. Whether it's a gift for a loved one or a personal keepsake, the store promises something precious for everyone.
About Namdhari Dynasty:
Namdhari Dynasty is a hallmark of excellence in the world of precious metals. With a legacy rooted in trust and quality, the brand has been serving its patrons with unmatched craftsmanship and design. The new store in Hyderabad is a testament to its commitment to bringing the best to its clientele.
For more information or press inquiries, please contact
Maninder Singh Malhotra,
namdharidynasty@gmail.com, https://namdharidynasty.com
9866104616