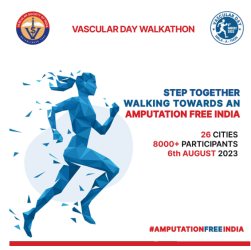 Walkathon would be flagged off from Major Dhyan Chand National Stadium, by Chief Guest: Sh. S P Singh Baghel-MOS-Health & Family Welfare, Guest of Honour: Dr. Kiran Bedi-Former Lt.Governor Puducherry, Guests of Honour: Sh. Manoj Tiwari; Ravi Kishan Shukla-Members of Parliament; Lt. Gen Daljit Singh, AVSM, VSM, PHS Director General Of Medical Services (Indian Army); Surg Vice Adm Arti Sarin, VSM Director General Of Medical Services (Navy) and Lt. Gen A K Jindal, YSM, AVSM Commandant, Army Hospital (R&R). They would be joined by host of well-known personalities.
New Delhi, A nationwide walkathon is set to take place on the auspicious occasion of National Vascular Day, uniting 26 cities across India in a mission to raise awareness with the resounding message of 'Walk a Mile, Live with a Smile.' The overarching theme of the event – 'Amputation FREE India,' a cause dear to our hearts. To participate FREE in the Walkathon in your city click the url: http://vasculardaywalkathon.in/
This grand initiative of Vascular Society of India aims to bring attention to the importance of vascular health while fostering a sense of community and solidarity. Citizens from all walks of life will join hands and step forward together, advocating for a healthier, happier, and amputation-free future for every Indian.
Following the vision of the Prime Minister Narendra Modi for a Fit India, Vascular Society of India organised the WALKATHON pan India with an aim to bring behavioural changes among citizens and spread awareness about a more physically active lifestyle to help ensure Amputation FREE India.
This national drive becomes more relevant in today's times, when India is becoming the diabetic capital of the world. More and more population is at the risk of preventable amputations patients suffering from factors causing atherosclerosis like hypertension, diabetes mellitus, dyslipidaemia and smoking. So this is an effort to create nationwide awareness, so that these amputations can be prevented by life style changes, and if at all the need arises, treatment can be done early, thus preserving their quality of life.
Vascular Day Walkathon in 26 Cities:
UT: Delhi
J&K: Jammu
UT: Chandigarh
Rajasthan: Jaipur
Uttrakhand: Dehradun
Karnataka: Bangalore; Mysore
Telengana: Hyderabad
Andhra Pradesh: Vishakhapatnam (Vizag)
Gujarat: Ahmedabad Surat, Baroda, Rajkot
Kerala: Trivandrum; Kochi Calicut (Kozhikode)
Maharashtra: Mumbai; Nashik, Pune, Nagpur
Tamil Nadu: Chennai; Madurai; Trichy; Vellore
West Bengal: Kolkata
Uttar Pradesh: Lucknow
The Walkathon promises to be an unforgettable experience, as participants will march hand-in-hand, spreading the message far and wide. Every step taken will be symbolic of our collective commitment to preventive measures and leading a lifestyle that keeps vascular issues at bay.
Let us join forces, city by city, and pave the way towards an Amputation FREE India. Embrace the spirit of walking for a cause, and together, we shall take strides towards a healthier nation—one where every smile remains intact, and where our hearts beat stronger, united in purpose. See you at the Walkathon!
For more information, please visit https://vascularsocietyofindia.com/