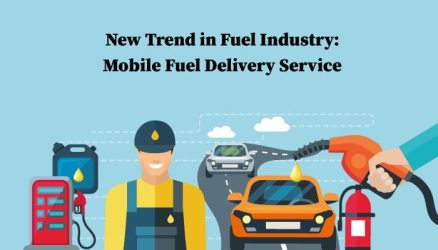 On-demand services are taking over the world. From on-demand food delivery services to on-demand laundry service and even on-demand flower delivery. And best part is, people are loving it.
After all, who doesn't want service to be delivered at their door step?
Well, one such amazing on-demand service is mobile fuel delivery service. It goes without saying that cars, vehicles are a big part of our life. Most of us them daily for commuting, work, and other various purposes.
And all of them run on fuel. We don't need to tell you that where you can find fuel. However, more often than not, people are stuff in situation where they have no gas station in sight and their car is out of it.
This is where the real use of mobile fuel delivery service comes in. All you need is a mobile app or a call to get fuel delivered to the place. And this is the reason why fuel delivery app industry is skyrocketing, booming with success.
Well, this isn't just beneficial for users but even more so for users. That's why there are so many people who want to hire app developers and create a fuel delivery app for their business.
If you are one of them or just curious about the opportunity, this blog is for you. Here, we shall be discussing all you need to know about fuel delivery service and app that enables it. Therefore, let's get right into it:
What is Mobile Fuel Delivery Service?
So, what is mobile fuel delivery service?
It goes without saying for the entire automobile history, we had to walk to a medical shop ( yes, you heard that right) or a gas station to get fuel.
And at times, this is just not possible. For instance, you are stuck in middle of nowhere or you want to leave urgently but don't have time to wait at gas station.
Just a decade ago, you had no choice to reach gas station with hook or crock. However, with the use of on-demand app development technology, fuel can reach you.
You see mobile fuel delivery services enable businesses to reach their customer. And many businesses are benefitting highly from it.
So, should you apply this concept to your business? well, you should and here's why:
Should A Fuel Business Invest in Mobile Fuel Delivery Service? And Why
One of the biggest and most difficult question a business owner or owners have to face is, whether or not a particular investment is worth it. And choosing whether or not to invest in mobile fuel delivery app development is one such question.
So, is it worth it?
Well, it goes without saying that millions of businesses are doing and. And there's a big reason behind it. Now, if you are considering creating a mobile gas delivery service, here's why you should do it.
Convenience and Customer Satisfaction
Mobile fuel delivery offers a convenient solution for customers who prefer to have fuel delivered directly to their location.
Mobile gas delivery service can cater to individuals, businesses, and even fleet operations. By offering convenience, you can enhance customer satisfaction and loyalty.
Differentiation and Competitive Advantage
A mobile fuel delivery service can differentiate your business from competitors who solely rely on traditional fuel station models.
This can give you a unique selling proposition, attracting customers who value convenience and time-saving services.
Target Market and Demand
Evaluate the demand for fuel delivery mobile app in your target market. If there is a sufficient market demand for this service, it can be a lucrative opportunity for your business.
Therefore, you should consider factors such as population density, traffic congestion, and the presence of industries that require on-site refueling.
Operational Efficiency
Introducing a mobile fuel delivery service may require initial investments in vehicles, equipment, and technology. However, it can lead to improved operational efficiency in the long run.
By optimizing routes, managing inventory more effectively, and reducing overhead costs associated with maintaining physical stations, you can potentially increase profit margins.
Regulatory and Safety Considerations
It is crucial to understand and comply with local regulations and safety requirements related to mobile fuel delivery.
And ensure that your business adheres to proper safety protocols, including training for drivers and proper handling of fuel.
Brand Expansion and Market Reach
Mobile fuel delivery can allow your business to expand its brand presence and extend its market reach beyond traditional fuel station locations.
Moreover, you can cater to remote areas, construction sites, events, and other locations where access to fuel might be limited.
Potential Challenges
Implementing a mobile fuel delivery service comes with its own challenges, such as managing logistics, vehicle maintenance, and ensuring timely deliveries.
In addition to this, you may face competition from existing mobile fuel delivery providers or even traditional fuel stations that may choose to offer a similar service.
These are the considerations you need to make before investing in mobile fuel delivery service and reason to go with it.
With this out of the way, it's time to start discussing the process to develop an app for mobile fuel delivery service.
How To Start Your Own Mobile Fuel Delivery Service With An App?
Want to start your own mobile fuel delivery service, well, for this you need to create a mobile gas delivery app. This is where fuel delivery mobile app development comes in.
Well, in this section of the blog, we shall be discussing all you need to know about creating such an app. Therefore, let's get right into it:
Ideation
Target audience research
Competitor analysis
Idea cross-checking
Monetization
Hire app developers
MVP development
Choose platform
Create tech stack
Mobile app designing
Fuel delivery app development
Testing
Deployment
Maintenance
This is how you create a mobile fuel delivery service app.
Cost to Build Fuel Delivery App
So, how much does it cost to build fuel delivery app? well, if you want to create such an app, it will set you back anywhere between $10,000 to $60,000 based on specification of your project.
For more details on the same, contact a fuel delivery app development company.
Conclusion
This is all you need to know about starting your own mobile fuel delivery service. Here, we discussed definition, reason to start service, how to do it, and cost. Therefore, with all said and done, we conclude our blog.