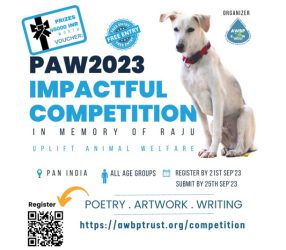 We are happy to announce the launch of the 5th PAN INDIA Competition "PAW2023", in memory of Raju, the dog who inspired this movement. PAW is a vibrant annual initiative to connect all age groups to animal welfare by showcasing their creative skills like poetry, artwork, and writing. All age groups can participate in this competition under three categories Poetry, Artwork, and Writing.
Organized by Animals Water Bowl Project (AWBP) Trust – an 80G and CSR registered public charitable trust working towards animal welfare. Since 2017, the trust has been actively working to create animal welfare awareness in the community by providing water bowls for strays and animal welfare education.
This competition will make the participant aware of the following points
Responsibility towards animals in the community.
Keeping the surrounding environments hygienic for the well-being of everyone.
Proper waste management and protect the animals, humans, and animals from them.
Stopping animal exploitation by connecting back to a sustainable lifestyle.
Importance of plant-based and cruelty-free lifestyle.
Usage of technology to improve animal welfare.
Submissions for the competition will be accepted starting 18th Aug'23, and the last date for entries is 25th Sep'23. A panel of distinguished experts in animal welfare will evaluate the submissions based on their impact, creativity, scalability, and sustainability. The winners will announce on 7th Oct'23, where they will get certificates and substantial prizes.
PAW2023 competition invites individuals, organizations, and animal enthusiasts India-wide to participate and showcase their contributions to this noble cause. By celebrating these champions of animal welfare, we aim to foster a global community committed to making the world a better place for animals.
For further information about the competition, including entry details and guidelines, please visit https://awbptrust.org/competition.
Competition Summary:
Organized by – Animals Water Bowl Project (AWBP) Trust
For complete event details: https://awbptrust.org/competition/paw2023
Register for the competition: https://unstop.com/o/H0AJN4O?lb=Tw3QazF
Eligibility – 8 + years
Entry Fee: Free
Location – India Wide
Categories – Poetry, Artwork, Writing
Start date – 18th Aug'23
Register by – 21st Sep'23
Last date for submission – 25th Sep'23
Winners announcement – 7th Oct'23
Rewards: Prizes & Certificates
Contact management – +91 7993912345
Contact mail – contact@awbpindia.org
Event Sponsors:
Raghu Rao Yalamanchili | GRD Institutions |  Alexarya Corporation | Shot Boot Three | Revelec AutomotiEV
Social Partners:
UBUNTU Eat | Uday Micro Artist | The Vegan Indians | Citizen For Animals
Need of the hour, every citizen in our community must take accountability and responsibility in protecting animal welfare and rights (sustainable development goal) for the betterment of humans, the environment, and animals.