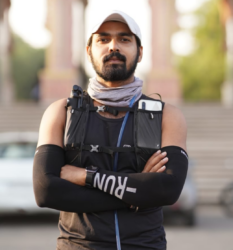 A Young dynamic man from Mumbai, Mitesh Dubey (26), who started his RUN from Mumbai's Powai lake to Delhi on October 20th, 2021, and Last night. He has crossed Rajasthan – Delhi – Haryana border.He is now running through Haryana and this evening will reach Delhi India Gate.
He is a Health Expert, Diet Consultant, Reader, rational thinker, and an Explorer in lots of ways. We want him to be fine in his run to the direction of making India come again to regular lifestyles and bask in a few habitual bodily sports to Stay Fit, Stay Healthy. Let us see what the young athlete has to say and hear his experience throughout his phenomenal journey.
It's been more then 20 days Running around the State of our country. I'm enjoying the journey and as usual i had some very good and few of bad experiences through out the journey but all together it is a great experience and for me those appreciation i got is my life time achievement. But I'm not going to stop after this. I'm gonna take the fitness onto a next level in our country.
There were few days I felt exhausted but when I ssw those little kids working for their animals and home, aswell the old age women's who are working to feed themselves which is too tuff. Whenever i watch or see them they inspire me a lot and only because of them I use to run everyday. Such a hard working these people are and even in my teenage time whenever we go to village on summer vacation i use to help my grandfather in their farm being from middle class family i feel so proud myself about. Currently i try to cover as much as distance as I can.
In my whole journey i have experienced that people in villages are living peaceful and healthy life. even when they don't have enough of facilities around like we have in our cities. They don't even know about any multivitamins or medicine still they are living great life in till long ages.
The villages I'm passing they don't have any good local transportation or the hospitals.
I try to help few from my daily running most of the time I purchase my water bottle from the small stores and eat my lunch in small local hotel's.
These people i met have been great Inspiration for me through out my whole journey.
God bless them with everything they need.I have also decided to help people as per my convenient once i am back to my work.
I met one of the old age women in Lunavada street of Rajasthan highway. She had cried in front of my eyes, she had no one in her life except the one small store she shared her story of life and i had nice memory. Before leaving i asked whether she need any kind of help. I gave her my number and asked her to visit mumbai whenever she likes. And the entire expenses would be from my end.
Helping needy people is my childhood dreams. I always use to think in my school times that whenever i will start working I'll help the people begging on signals of the street. So now i am helping people through out my journey as much i can.
People today's time are running behind medicines, if you see the villagers they are more happy than the urbans. The villagers don't even have the good facilities still they live longer than the city people. The Truth is because they eat home made food, have family time, sharing things and Caring for each other's.
I will be doing some full marathons in all over the states of our country Soon which will be free of cost for everyone. It will be open for all the age groups, only the distance will be categorized into the age group.
To the people are asking me about my diet, I would suggest to eat all the meals as per the availability if you don't eat and have good diet. You won't be able to run everyday. So their is no such diet except few multivitamins and special instructions of being rhydrated and drinking lots of water.
I feel proud for myself for taking such decision and I have completed the journey by my own where i had great experience of life. so please start sharing and caring take care of yourself , people around you and start sharing your thoughts with the people Family and friends for your better health.
Stay happy Stay strong
See you on the road
Run India Fit India
gear up for a healthy life
Mitesh Dubey.