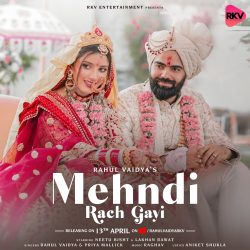 Mumbai-based singer Priya Mallick is stealing hearts once again with her soulful voice in the biggest Shaadi song of the year, "Mehndi Rach Gayi". Collaborating with popular singer Rahul Vaidya RKV, Priya has become the complete female voice for the song, which has been released and is receiving lots of love from fans. The music video, starring Neetu Bisht and Lakhan Rawat, has also been widely appreciated on YouTube and social media platforms.
Priya's talent as a singer was first recognized when she sung a duet with Shankar Mahadevan for the movie "Bhuj: The Pride of India". She further honed her skills by participating in the singing reality show "Om Shanti Om", which is now streaming on Hotstar. In addition to her presence in Bollywood, Priya is also widely recognized for her performances in folk music.
Priya's versatility as a singer has made her a popular choice among music directors, and her latest collaboration with Rahul Vaidya RKV is set to be a chartbuster. The song, composed by Raghav and penned by Aniket Shukla, is already a hit among listeners.
Fans of both Priya Mallick and Rahul Vaidya RKV have been loving and supporting the song, and with Priya's soulful voice and Rahul's energetic performance, "Mehndi Rach Gayi" is sure to stay on repeat on every wedding playlist.