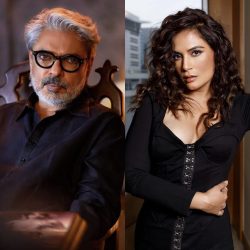 As the cinematic masterpiece "Goliyon Ki Raasleela Ram – Leela" celebrates its 10th anniversary, acclaimed actress Richa Chadha looks back on a decade-long association with visionary director Sanjay Leela Bhansali. The magnum opus, released on November 15, 2013, featured an ensemble cast, including Ranveer Singh, Deepika Padukone, Richa Chadha, Gulshan Devaiah, Supriya Pathak, Sharad Kelkar, Abhimanyu Singh, among others.
Richa Chadha expresses her gratitude for the unique opportunity to work with the maverick director once again after a decade in his debut web series "Heeramandi."
She considers herself fortunate to be part of a project with Sanjay Leela Bhansali, stating, "There are very few actors in Hindi cinema who get repeated in his larger-than-life movies. Working with SLB is an experience of a lifetime for any actor, and I am overjoyed to collaborate with him twice, especially as we celebrate the 10-year milestone of 'Goliyon Ki Raasleela Ram – Leela.' It feels like a true celebration of artistic collaboration."
The actress fondly reminisces about the impactful journey during the filming of "Goliyon Ki Raasleela Ram – Leela" and expresses enthusiasm about the upcoming venture "Heeramandi," marking a significant milestone in her career.
Sanjay Leela Bhansali's ability to create cinematic spectacles has left an indelible mark on Hindi cinema, and Richa Chadha is thrilled to continue this artistic journey with him.