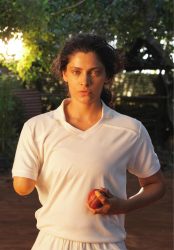 Saiyami Kher, known for her impactful roles in cinema, has stepped forward to lend her voice to the movement of inclusion for people with disabilities. Building on the inspiration drawn from her recent film 'Ghoomer', in which she portrayed a cricketer with a physical disability, Kher is set to address a distinguished audience at the upcoming Zero Project India Conference which is affiliated with the United Nations.
The conference, to be held in Delhi, will serve as a dynamic platform bringing together eminent stakeholders, policymakers, influencers, and champions of disability rights from both India and around the globe. Through a series of engaging panel discussions, interactive workshops, and knowledge-sharing sessions, the event is poised to spark innovative ideas, forge strategic alliances, and ignite actionable solutions towards building a more inclusive India.
Following her address in Delhi, Saiyami Kher will extend her advocacy to the international stage by speaking at the United Nations office in Vienna early next year. Her commitment to the cause of disability inclusion resonates deeply with the values and mission of the Zero Project, an initiative dedicated to driving positive change for people with disabilities on a global scale.
Kher's portrayal of a cricketer with a physical disability in 'Ghoomer' has not only garnered critical acclaim but has also sparked a profound personal commitment to champion the rights and inclusion of individuals with disabilities. Her involvement in this movement is poised to inspire and empower audiences worldwide.
Saiyami share her thoughts, "Ghoomer has been a very transformative film for me in many ways. I spent a lot of time with para athletes and learnt a lot of lessons of resilience and hard-work. The biggest take away for me was they don't need anyone's sympathy but the need of the hour is inclusion in every way. We need to live in a world with zero barriers and I am deeply honored to address the conference in Delhi and later at the UN office in Vienna."