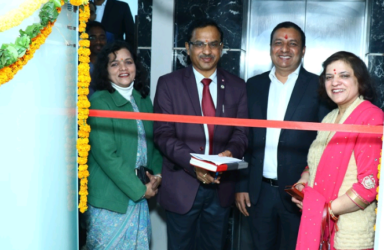 The company has doubled its employee strength in the last 6 months with strong demand in medical devices, defense, and semiconductor industry segments.
Noida, December 21, 2021 – SARACA Solutions, a global IT consulting and engineering R&D services company, plans to triple its headcount in India in the next two years, anticipating strong growth in electric vehicles, UAV, medical devices, and artificial intelligence solutions.
The company expects demand to continue across major industry verticals, especially in digital engineering, and confident that the strong demand traction is likely to continue for the next few years, said Kuldeep Tyagi, founder and CEO.
SARACA is first company in product engineering services segment in India that focused early on complex regulations in medical, pharma and healthcare and developed strong capabilities. The company works for Fortune 500 clients and help them meet regulatory requirements in Europe, USA, Japan, and other major markets.
The company is ramping up recruitment at its Noida office and today inaugurated its new office which will be company's new HQ. SARACA will add more than 500 engineers in the next two years to meet the demand in newer technologies like AI/ML, IoT, cloud, chip design and 5G, Tyagi said.
The new office was inaugurated by Dr. Ravindra Singh, Director, DPA, Defense Research and Development Association (DRDO), Delhi. Company employees, officials, and respected dignitaries were present in the opening ceremony.
The new hires will be a mix of both freshers and laterals. The company plans to hire local talent from engineering institutes in Delhi/NCR area. To bridge the industry-academia gap, SARACA has strong association with premier institutes including Krishna Institute of Engineering & Technology (KIET). SARACA caters primarily to the medical devices, pharma, automotive, semiconductor, consumer, telecom, and industrial sectors.
"The main objective behind expansion in Noida is to deepen our commitment to our strategic customers and this will also help in providing various employment opportunities for passionate engineering professionals. We have always worked towards doing challenging projects for our customers to differentiate ourselves and it has yielded in stronger customer relationships," Tyagi said
The young, agile, and aggressive – SARACA is a 7-year-old company and has operations in Boston, USA, Bengaluru, Hyderabad, and Mumbai.
For more information, contact:
Shilpa Negi, Marketing Manager
shilpa.negi@saracasolutions.com