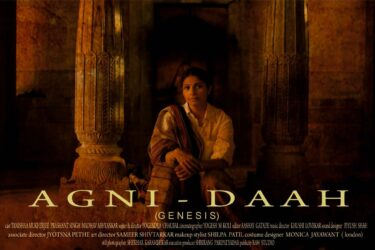 Tanishaa Mukerji is all set for her new project to release! The actress is back in action with a short film layered with meaning and value. Called _Agni-Daah_ , the film is going to get the grandest of premiere at the Amity International Film Festival on the 16th of February. Tanishaa, who plays the most endearing role in the movie, opens up about her character.
The story revolves around who is adopted by a man working at the cemetery. The girl brought up in the graveyard is immune to death as she is constantly exposed to corpses. Death becomes a part of her day to day life and she is unfazed by the whole concept of mortality. But the suddenness of her father's death shakes her out of her stance and she finally understands the value of life.
She says, "Agni-Daah is about the abandoned girlchild which is happening a lot in the country. It takes up the narrative of the women who disconnect emotionally because of all the trauma and how when their emotions are awakened, it affects them a lot. It talks of the girl's relationship with death and the disconnect she feels because of working at the crematorium. She only understands the connection with loss after losing the man who takes care of her."
Tanishaa goes on to say, "It's a conversation about a lot of social, issues and problems that affect a girl child."
This short film brings to us a completely deglammed look of the actress, where she adorns a natural and down to earth look. Tanishaa has received offers of many meaningful projects, and she prioritizes quality content.