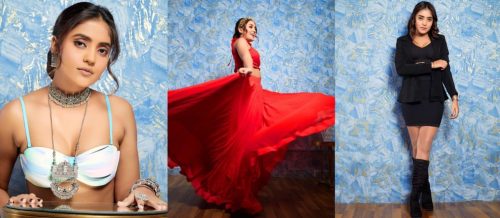 Tanya mishra a girl from small city with big dream was born in gaya Bihar in joint family .had a fierce ambition to Excel in the entertainment industry. She honed her craft through Bachelor of commerce and embarked on a journey that would change the face of Indian entertainment forever.
The Bollywood entertainment industry has witnessed a force to be reckoned with in Tanya mishra. With her stunning looks and captivating personality, Tanya has made an indelible mark in
modeling and acting. Her rise to fame has been a testament to her sheer grit, unwavering passion, and unyielding spirit.
With her innate talent and remarkable dedication, Tanya Mishra quickly made a name for herself in the modeling industry. Her breathtaking beauty and mesmerizing aura landed her campaigns for world-renowned brands such as Brand ambassador of Hindustan petrolium.
Title winner of miss jharkhand.IAWA Miss India best photogenic face crown.
But Tanya's hunger for more was unquenchable. She delved into acting and conquered that arena with ease. Her pan India debut film, "ghazanavi," was just the beginning of a string of successes. "chidiya udd" and "red sandal" (web series )are set to release soon, and Released web series parvanchana music video Nakhro the anticipation for her performance is palpable.
Tanya's impact in the entertainment industry extends beyond her modeling and acting achievements. Her resilience and courage have inspired countless young individuals to pursue their passions relentlessly. Her story is a reminder that dreams can become a reality, and barriers can be shattered with sheer willpower.
Tanya had an amazing experience in Bollywood
Recently completed a music video Tu Mera ho jayega.Releasing date is confirmed 31 may
As tanya continues to soar to greater heights, her impact on the Indian entertainment industry is immeasurable. Her star is shining brighter than ever before, and her legacy will continue to inspire generations to come.